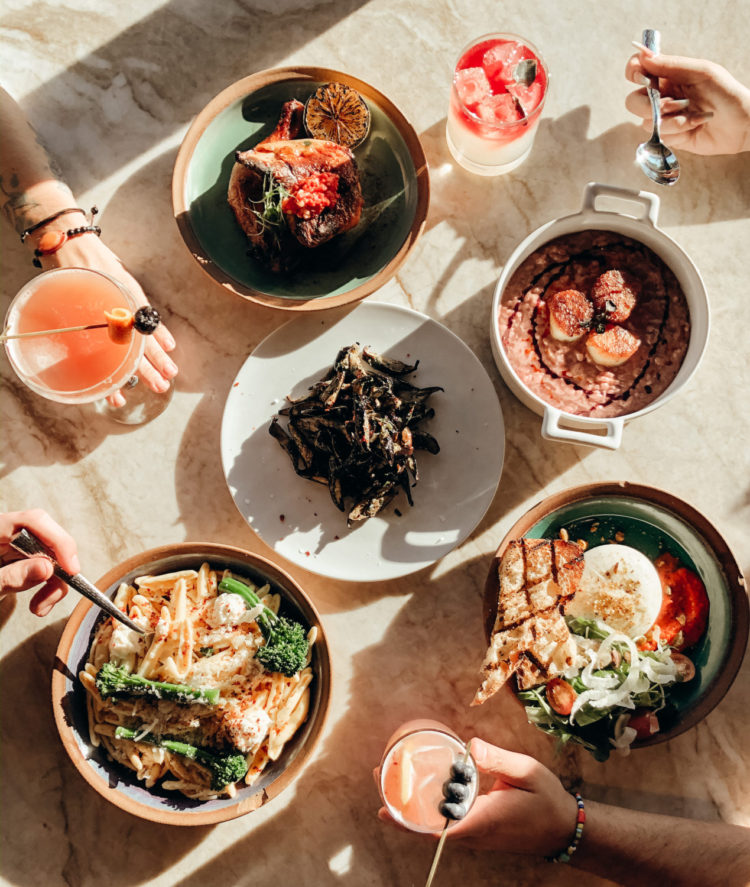 Andaz Scottsdale Resort & Bungalows is a celebration of art, style and individuality–and that celebration certainly spills over into its signature restaurant. During a recent visit to the chef's table inside the Weft & Warp Art Bar + Kitchen, we sampled the delicious menu spotlighting locally sourced ingredients and a can't-miss desert-inspired cocktail menu. Check out our faves:
Color Me Blue: This standout on the cocktail menu features Four Roses bourbon, lemon, pineapple and blueberry. It is a simple, straightforward sip that'll please bourbon lovers alongside those who prefer a fruity tipple. Plus, there is even setup near the chef's table where guests are invited to craft their own cocktail! Think: a gin and tonic with fresh citrus slices, fragrant herbs and infused spirits.
Hamachi crudo: This dish is a tropical escape. The thinly sliced hamachi is delicately placed on a bed of serrano chile, coconut, mint and chive oil; each bite is wonderfully vibrant, with a touch of heat and sweetness.
Scallop risotto: Lavender-hued arborio rice will make you do a double-take, but we promise this dish is more than just good looks. The scallops are perfectly cooked and the blackberry coulis (which makes the rice purple) and chile oil add great flavor to a typically not-exciting staple.
Smoked half chicken: This dish is for those with a hearty appetite and a taste for the traditional. The half chicken, with a gloriously crisp skin and juicy meat, is topped with a refreshing roasted peperonata.
Shaved street corn: Can you go wrong with street corn? We don't think so, and Weft & Warp's interpretation is fabulous with just enough char and creamy cotija cheese.
Chocolate strawberry: This dessert is as pretty as it gets. Though its name will have you thinking of a Valentine's-y chocolate-covered berry, it is actually an artful dollop of white chocolate mousse and milk chocolate ganache covering a tangy strawberry surprise in the center.