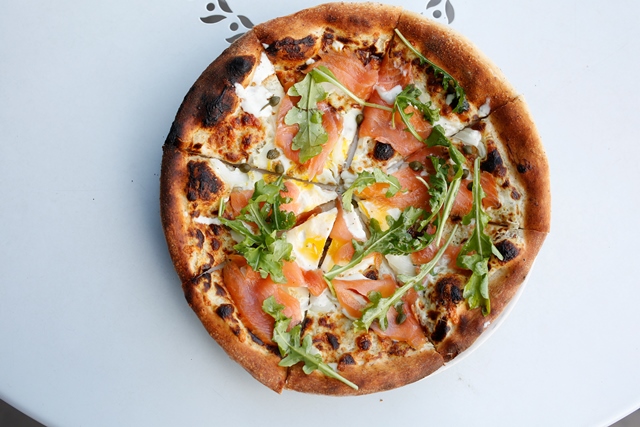 While welcoming in the new year, True Food Kitchen welcomed a few new healthy brunch items to its weekend menu (available through 4 p.m. on Saturdays and Sundays). Using Dr. Weil's guidelines for his Anti-Inflammatory diet, the new items include a Tofu Burrito, a Smoked Salmon Breakfast Pizza and a Market Scramble, as well as three smoothies, Tropic-Kale, AB & J, and the Rise & Shine.
The Market Scramble is created using organic eggs, and the dish is chock-full of fresh red peppers, broccolini, caramelized onion, spinach, sweet potato and a sprinkling of parmesan (you can add bison machaca or chicken breakfast sausage for an even heartier plate). The peppers and broccolini add a great crunch to the dish, while the sweet potato offers a touch of sweetness.
For a slightly more indulgent a.m. eat, the Smoked Salmon Breakfast Pizza (pictured) is topped with egg, tzatziki cream, sweet onion, capers and arugula. A more decadent and delicious version of smoked salmon on bagels and cream cheese, the egg and tzatziki adds a nice creaminess while the capers give salty pops that complement the salmon. The crust is airy and chewy, the perfect consistency for brunch.
To wash down the new dishes, the Rise & Shine smoothie is a refreshing, nutrient-packed option. The smoothie is crafted with Sea Buckthorn (a powerful antioxidant), coconut milk, honey, pear, carrot and ginger. Not overly sweet, this smoothie is a great boost after an indulgent holiday season.