Though found in an unexpected spot in Tempe (at the Discovery Office Park), there is something that guests at the newly opened TRES Tempe should definitely expect: to be blown away by the restaurant's incredible eats.
Before digging in to the eats, the restaurant name needs a little explaining. TRES is named for three styles of eating at the restaurant as it offers dinners, quick bites or full meals during lunch, light bites during happy hour and a varied dinner approach that appeals to every diner–from bar patrons to large families. As far as what you'll find on the menu, the dishes range from comfort foods to those boasting southwestern and Mexican flavors to those with a Mediterranean twist. There is truly something for just about everyone to enjoy.
During a recent dinner visit, we tasted dishes that spanned from light bites to full-blown feasts. (Truly, they are referred to as "feast" on the menu!) To kick off the meal, we recommend the crispy calamari paired with a aji amarillo aioli and the local tepary bean hummus, which is a little smoother and creamier than traditional hummus. Another great nibble to kick off the meal is the simple but stunningly good wood oven-fired Qcom olives (both dishes pictured above). The olives are served warm and are like butter–with a garlicky kick–in your mouth.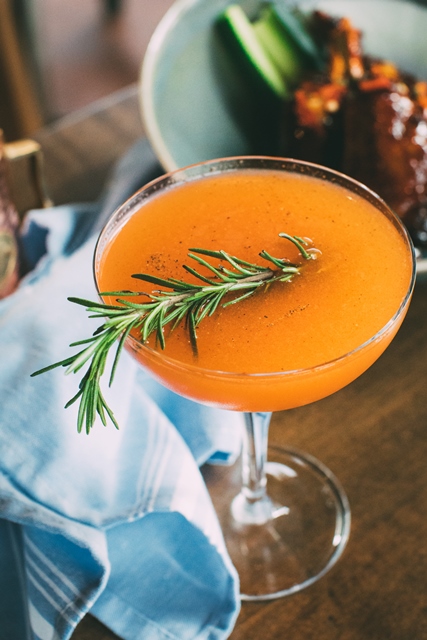 Now that those taste buds are warmed up, it is time for the pork trifecta flatbread (again playing on the "tres" theme). While you can't go wrong with the combo of Spanish chorizo, crisp bacon and 'nduja in just about any setting, this flatbread is particularly special thanks to the addition of fig marmalade in lieu of red sauce. The salty, crispy pork pieces paired with that fruity, sweet punch is perfection. (We even grabbed a second flatbread to go to enjoy later.)
And not to overdo the pork but the Moroccan-spiced pork wings are another must. The hearty wings are coated in sticky, sweet and delicious honey harissa for a (literally) finger-licking-good eat. (Speaking of harissa, the tongue-tingling It's Harissa, Honey (pictured) is a definite. It's totally unique, spicy cocktail with Pearl vodka, hand-squeezed lemon juice, harissa honey, ginger beer, cracked pepper and rosemary.)
Though one could easily fill up with the smaller plates at TRES, it is a good idea to round up a few friends so you can enjoy the paella Valenciana feast. The presentation alone is jaw-dropping. The colorful medley of shrimp, mussels, lobster, chorizo, chicken and calasparra rice is warming and comforting, packed with a variety of tastes and textures. The picture-perfect paella is the perfect dish to linger over with loved ones.