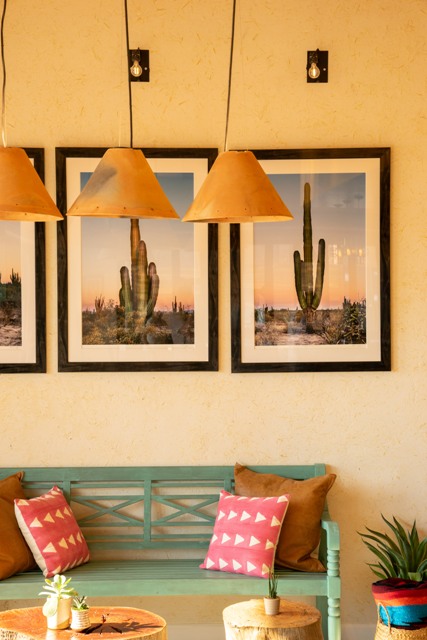 Tempe has welcomed a new neighbor with the addition of Ghost Ranch. The new opening is a Chamberlin Hospitality concept (from star chef Aaron Chamberlin) and a sister restaurant of Taco Chelo, Phoenix Public Market Cafe and Tempe Public Market Cafe, located next-door to Ghost Ranch. With this new opening, Chamberlin and Chef Rene Andrade dish out modern Southwest dishes made for sharing in a space the is cozy, colorful and incredibly inviting.
Before the plates even hit the table, it is easy to fall in love with the decor. Rich tilework, inventive lighting, cactus-flecked, desert-inspired artwork and a wall of faux cattle skulls provide a comfortable but eye-catching space to enjoy a delicious spell.
The all-day menu features a handful of appetizers and salads, house specialties, dishes from the wood-fired grill and taco and enchilada offerings. The ceviche (pictured below) is a tasty, refreshing way to kick off a meal. The picture-perfect dish features many of the usual suspects–shrimp, avocado, cilantro–and is brightened up even more so with orange and radish for a tangy touch and color infusion.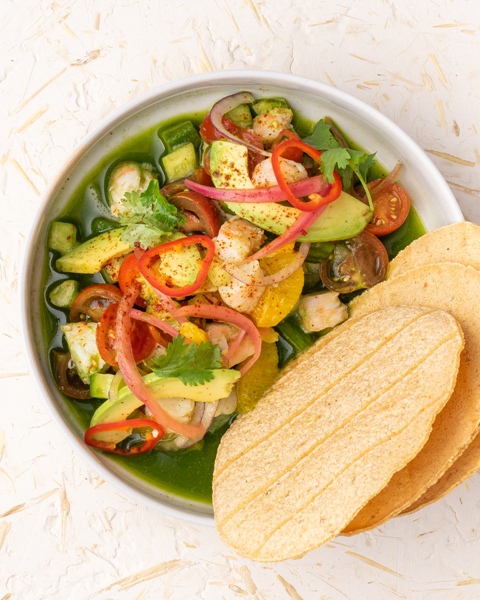 A taco platter is a must–and when they say "platter," they mean it. The braised pork option was deliciously tender and rich. The large helping of meat was sided with four homemade tortillas, guacamole, salsa, beans and rice. Plenty for two people to share along with a starter or salad. Though the pork was wonderful, its thunder was stolen slightly by the incredible slow-cooked ranchero beans and buttered corn rice. These side items were certainly no afterthought–so creamy, decadent and flavorful.
For a unique offering, the Aztec Cake is similar to the construction of lasagna. The piping-hot skilled featured layered tortillas, pulled chicken, sweet corn, roasted green chile and cheeses (talk about a 'gram-worthy "cheese pull"). Though called a "cake," the ingredients don't make a solid form but they sure do taste good together. Slightly sweet, a little spicy and very creamy.
Dessert is most definitely in order at Ghost Ranch. Smokey-meets-sweet, the chile-chocolate cake is divine. The spicy cake is accented with avocado-lime salt, cocoa nibs and the yummiest coconut gelato that could easily star solo on the dessert lineup.
Ghost Ranch is open Monday through Thursday, 11 a.m. to 10 p.m.; Friday, 11 a.m. to 11 p.m., Saturday, 9 a.m. to 11 p.m., and Sunday, 9 a.m. to 9 p.m.