Phoenix's Otro Cafe might just be one of the Valley's best-kept brunch secrets. You see, the colorful, vibrant restaurant hosts brunch every day so there's no need to wait until Sunday to get your fill of flapjacks and Bloody Marys.
During a recent visit, we sampled some of the greatest hits from Otro Cafe's eclectic brunch menu, which features sweet eats, meaty dishes, traditional-with-a-twist egg dishes, a breakfast burrito and much more. In addition to the deliciousness, diners will adore the cozy interior, full of plants, colorful artwork and comfy booths.
First up, we had to try Otro's famous flapjacks, which can be ordered with berries, chocolate chips or, for a real decadent offering, with banana, candied peanuts and caramel. We opted for the huge, berry-packed flapjacks, which were light as air and had a slightly crispy exterior. With the warm, gooey berries, syrup wasn't even needed.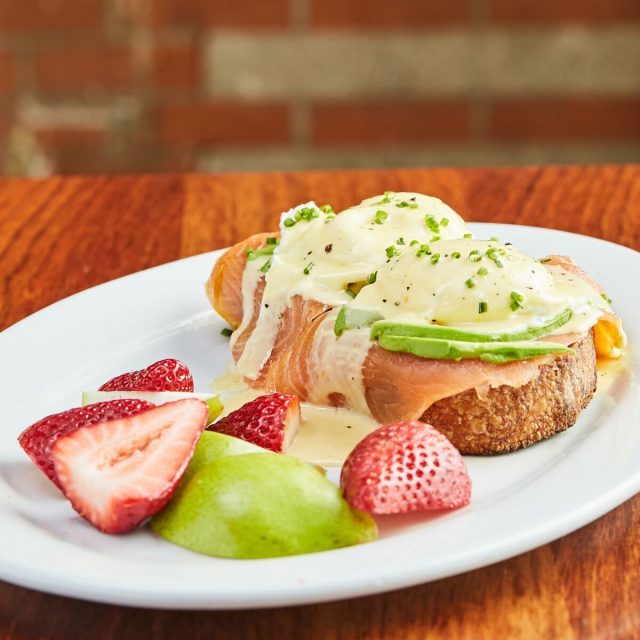 For something more savory, the Consuelo del Sur is a perfect comfort-food dish, similar to Canadian poutine. The dish features wedges of crispy rustic potato topped with chorizo, linguica sausage, two eggs and, the star of the dish, a spicy tomatillo gravy. It is hard to imagine a better dish to dig into during a rainy monsoon morning alongside a never-ending cup of coffee.
Eggs benedict fans will adore the Nortico (pictured above). The dish features two poached eggs, smoked salmon, sliced avocado, chives and hollandaise served on a thick slice of toasted Noble Bread (it's super pretty for the 'gram!). This is a lighter brunch offering, paired with fresh fruit, so it's just right for the diner wanting save room for a few more bites of flapjack.