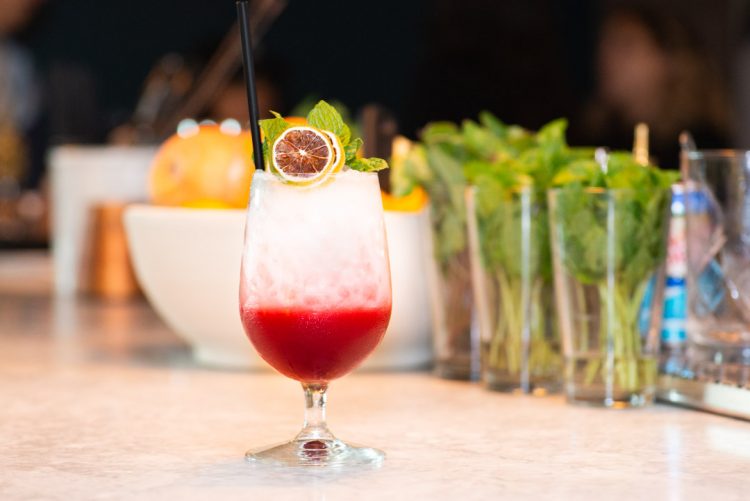 The fellas behind Born & Raised Hospitality never fail to impress. You may know them as the group behind the new Fellow Osteria and the long-loved Clever Koi. Their months-old Across the Pond–just a few feet from the Phoenix Clever Koi locale–follows a similar formula: a cool, sleek aesthetic, inspired eats and a killer cocktail program. And we're here for it.
The Phoenix sushi restaurant is small, but diners don't feel cramped. There is a booth section with buttery caramel-color seating and some high-top options. But you'll catch the most action from a seat at the bar, where you have a first-row view as the cocktails and sushi are meticulously crafted in front of your eyes.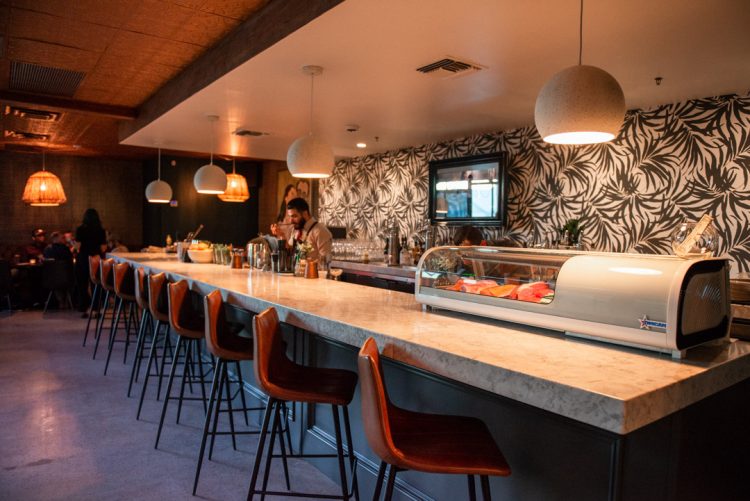 The drink menu is your first priority. Across the Pond has 15-plus glorious concoctions, and even the most simple sips are far from boring. But do it up at Across the Pond: the Suntory Sling features Suntory Toki whiskey, sling syrup, Benedictine, lemon and lime in a highball. It is herbal, bright and fresh, complete with pineapple ice cubes. Ms. Paka is like a beach vacay in a glass with Monopolowa vodka, Clement creole shrubb, lemon and creamy mango nectar. You'll want to dedicate some serious Instragram space to these beauties. There is also a great sake and wine lineup, too.
Tip: Don't come to Across the Pond starving. This isn't a bust-your-gut setup where you'll order several frilly rolls. The bites here are small, delicate and absolutely delicious. You'll want to savor and taste, not simply eat.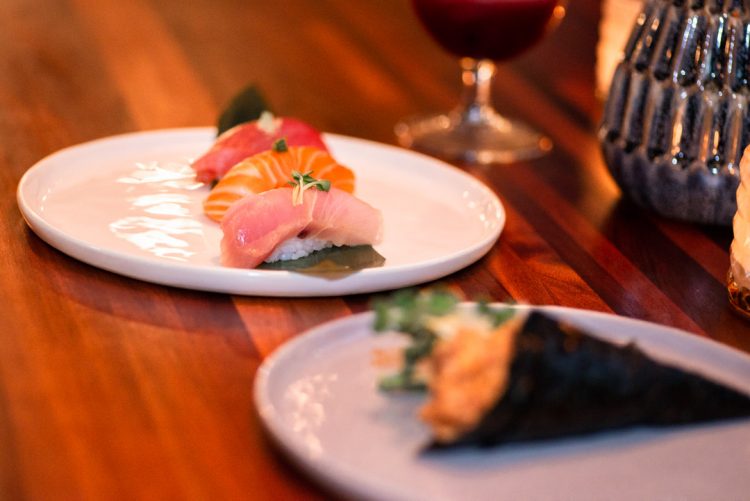 The menu comprises a selection of nigiri, temaki (handrolls), sashimi and two house specialties, though check the board for daily specials. During a recent visit, the sushi lineup featured scallop with coconut curry, O toro with soy and grated uni, escolar with soy-marinated fresno pepper and big eye tuna. Though the fish was the star of each bite–and oh-so fresh–the additional ingredients add more vibrancy and beauty. Watching the chefs put together each piece is like an artist at work, and the result are these little edible masterpieces.
Of the two house specialties, the soft crab roll is the favorite. Sweet and spicy, creamy and crunchy, the roll features daikon, sriracha mayo, avocado and soy-marinated fresnos. The heartiest of the Across the Pond dishes, this roll makes a fab finisher.