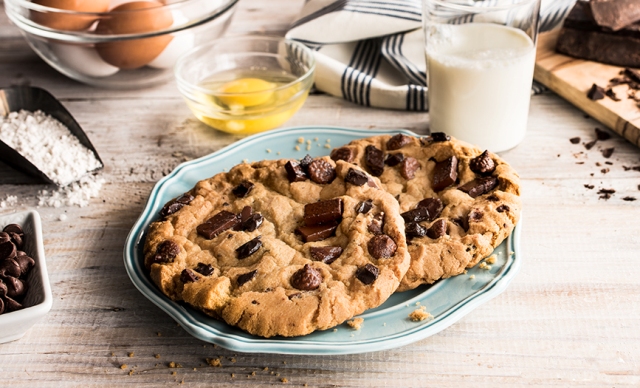 Pour a nice, cold glass of milk because Saturday, August 4, is National Chocolate Chip Cookie Day! It's obviously way too hot to turn the oven on and bake your own, so here are five of the best chocolaty morsels from around town:
Urban Cookies Bakeshop – This Phoenix staple is a hip, family-owned bakeshop crafting sweet treats with organic, locally sourced ingredients. Their chocolate chip cookies are to die for, freshly baked with Madagascar bourbon vanilla and a generous portion of chocolate chips. Chewy, tasty and delicious – and a perfect option for celebrating National Chocolate Chip Cookie Day! Visit their Phoenix location at 7th street south of Thomas to get your hands on these goodies.
Oregano's Pizza Bistro – The Holy Grail of chocolate chip cookies can be found at Oregano's in the form of the Original Pizza Cookie. The family-owned restaurant starts with more than half a pound of chocolate chip cookie dough and then bakes it slightly in a 6-in. pizza pan before topping it with three scoops of vanilla bean ice cream and a sprinkle of chocolate chips for good measure.
ZOËS KITCHEN – These visually stunning giant cookies (pictured) are HUGE and filled with multi-sized and multi-flavored chocolate chips in semi-sweet, milk and dark varieties. Each bite is different and the homemade chewy goodness will bring you back to your childhood. There are several locations across the Valley to visit and pick up one (or two) of these tasty treats.
Kneaders Bakery & Café – There are simply too many incredible desserts to choose from when walking up to the bakery display at Kneaders. National Chocolate Chip Cookie Day makes it a little easier to focus and stick to a game plan. The made-from-scratch chocolate chip cookies are hard to beat, with two types of semi-sweet chocolate chunks, a hint of brown sugar and vanilla baked to sweet-sweet perfection.
Lux Central – Pick up the prettiest cappuccino in town and savor it with a salted chocolate chip cookie with walnuts baked inside with love. The salty-sweet treat isn't traditional, but it has quickly become a favorite with locals who frequent the hip coffee shop on Central Avenue. –Lisa Cardinale