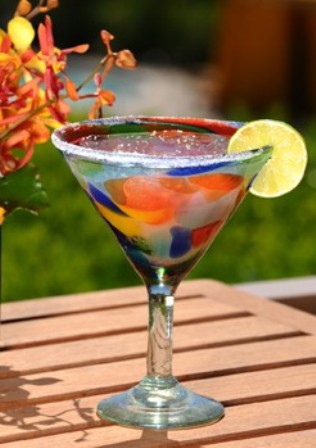 For me–and nearly everyone I know–tequila plays a very important roll in my life when the temperatures start to rise. (Can you imagine getting through an Arizona summer without a few margaritas?) Therefore, the folks at Partida Tequila have provided a few tips and tricks regarding this delish drink, as well as a refreshing recipe from Mac Gregory from The Phoenician.
Five things you probably didn't know about tequila:
1. Although it's a common perception that tequila is made from cactus, it's actually made from the agave plant, which is a member of the lily family. Partida Tequila is made from 100 percent estate-grown blue agave.
2. Like fine wine, Partida Reposado, Añejo, and Elegante Tequilas are aged in oak barrels.
3. It takes 7 to 10 years for an agave plant to reach maturity. Once the piña, or heart of the agave, is ideally ripened, the lush sugars make for a premium tequila like Partida.
4. Tequila is more than just a name, it's also a place. The Tequila region is in Mexico, and was declared a UNESCO World Heritage Site in 2007.
5. Tequila was the first spirit distilled in North America. Legend has it that the Conquistadors refined the traditional fermenting practices of the indigenous people when their supplies of European brandy gave out.
Five tips for enjoying Partida Tequila:
1. Forget salt and lime. Partida is so smooth that you can just sip it neat or on the rocks.
2. Partida Tequila is a sophisticated spirit ideal for using in modern versions of classic cocktails. Spice up Sunday brunch by switching vodka for Partida Tequila to create a Bloody Maria, a fun new take on the Bloody Mary. Or, try a twist on the Martini by substituting Partida Blanco for gin and Lillet for Vermouth, then add a grapefruit twist to create a refreshing, delicious cocktail.
3. Stop obscuring the tequila in your margarita. Pare this cocktail down to its essentials: lime, your Partida Tequila of choice and Partida Agave Nectar, and shake with ice.
4. When drinking premium tequila like Partida neat, try a snifter instead of a shot–these glasses will enhance the varied notes of Partida Tequilas and add sophistication to your soirée.
5. Don't let the party stop with dessert.  Try an aged tequila such as Partida Añejo (aged for 18 months) with dark chocolate confections.
Silvestre Suizo Sueco
Created by Mac Gregory at The Phoenician
2 oz Partida Reposado Tequila
1/4 oz Elderflower liqueur
Lingonberry puree
Fresh-squeezed Kaffir limes and cane sugar
Sweetened Meyer lemon juice
Mix all ingredients in a blender with ice. Use chop setting to combine, then pour into 16 oz margarita glass half rimmed with sea salt. Garnish with lingonberries and elderflower.