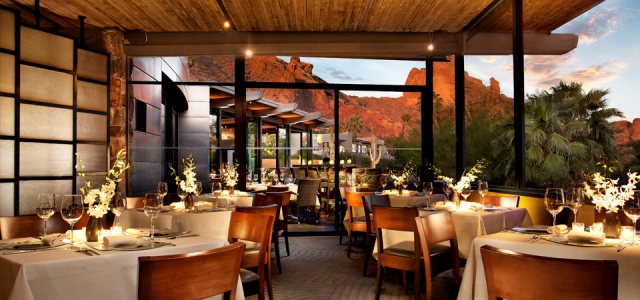 Scottsdale's Sanctuary on Camelback has some fun events and classes that are shaking up spring. On Saturday afternoons at 1 p.m., Sanctuary's mixologists will host Mixology 101 at jade bar, teaching participants to craft a selection of cocktails inspired by a different spirit each week. Classes are $30 per person and limited to 10 people.
March 2: Brandy Concoctions – Cognacs and the classics
March 9: Vodka Experiment – Infusions and other elixirs
March 16: Hollywood Cocktails – From Marilyn to Sinatra
March 23: Tequila Time – Agave treats from Mexico
March 30: Tiki Hour – Rum from around the world
Sundays in Paradise gives visitors the guests and locals the chance to take in the scenery, the glorious weather and live tunes from 2-6 p.m. for a cover charge of $5 ($15 for a special engagement on March 10). Gourmet picnic packages are also available for $55 ($65 on March 10), including admission for two, a bottle of wine, choice of appetizer, and preferred lawn seating with a blanket for the afternoon.
March 3: Sugahbeat
March 10: Matt Rogers
March 17: Khani Cole
March 24: Mel Bridges
Plus, Sanctuary's daily happy hour, The Pour, is serving up a fresh menu featuring wines and spirits, cool cocktails, and savory small plates by Chef Beau MacMillan. Everything–including house-made potatoes chips, roasted garlic hummus, tempura veggies and more–is $6. The Pour is held daily from 4-6 p.m. at Sanctuary's jade bar and 10 p.m. to midnight at edge bar. www.sanctuaryaz.com.