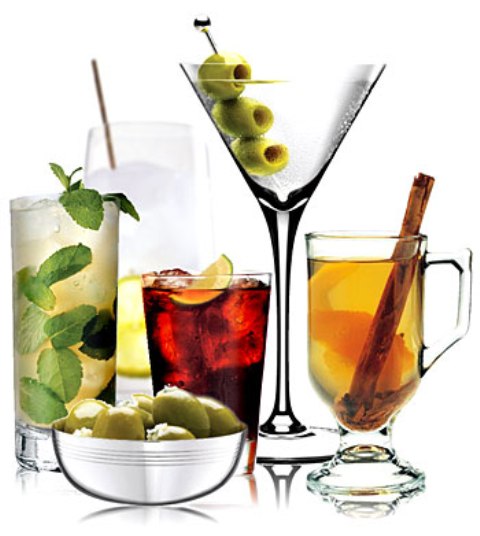 When it comes to deciding what's in and what's out of your at-home bar, it can get overwhelming. Thankfully, Micah Olson of Bar Crudo provided readers a guide to stocking one's at-home bar. Thanks for sharing, Micah!
Looking to pursue mixology at your leisure? Want to setup a cocktail lab in your house and start playing with ingredients? That was myself six years ago. Using the knowledge I have acquired over the years as a mixologist, here are some tactics and tips that will make your concoctions taste as good as the drinks at your favorite cocktail bar.
Essential tools:
• Shaker Tin
• Tempered Pint Glass
• Bar Spoon
• Hawthorne Strainer
• Hand Juicer
• Jiggers for Measuring *(the most important tool)
Mixology is a serious as baking. Exact measurements are vital when preparing a proper cocktail, to ensure that the drink's flavors are balanced. The tools I mentioned are the bare essentials; you can find these and other fun tools at www.barproducts.com and www.cocktailkingdom.com, which are two excellent sources.
Ice:
The most underrated and most often overlooked item by the home bartender. Ice is best when it's fresh and pure. The ice from your freezer's ice-maker is most likely over a week old. After a week, the ice is probably in the process of deteriorating, full of hard water impurities, and picking up odors from the food stored in the freezer. Personally, I go to Fry's and buy a seven-pound bag of Classic Cubes for $1.89.
Alcohol:
I suggest starting small when selecting the spirits that will stock your bar. A great place to start is to purchase a good classic cocktail book (Imbibe! by David Wondrich is fantastic). After reading the book, write down your three favorite cocktail recipes and go procure all the items necessary to make the cocktails. After all, you are the most important customer at your home bar.
Perfect these cocktails before moving on to new cocktails. With the new cocktails will come new spirits and liqueurs. This will allow you to grow your bar appropriately and you won't end up with a menagerie of bottles that will never get used. With that being said there are a few essential spirits that should be stocked in every bar:
• Vodka
• London Dry Gin
• Bourbon
• Scotch
• Tequila
• Rum
• Brandy
These seven spirits will provide the base for the majority of cocktails out there. Most importantly, don't be afraid of brands that you have never heard of. There are so many amazing small batch spirits producers out there making juice just as good, if not better than some of the major brands.