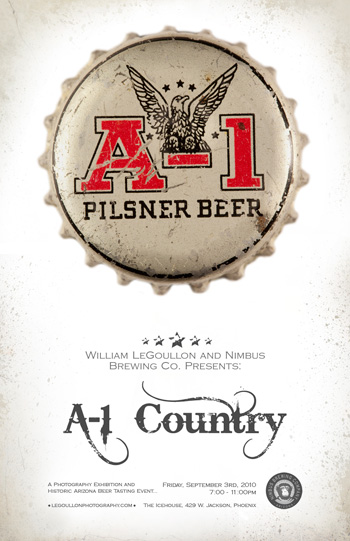 If you're a beer lover, there's a weekend event on tap that is not to be missed. On Friday, Phoenix's Icehouse will host a beer tasting and photo exhibit to celebrate the re-release of the historic Arizona beer, A-1. The event–which is free!–will be hosted by Phoenix-based artist William LeGoullon and Tucson's The Nimbus Brewing Company. The event is from 7 to 11 p.m.
Here's a bit of history on the famed brew: "Originally presented by the Arizona Brewing Company in 1943, A-1 continued being produced by various brewing companies until 1985 when the beer's symbolic narrative soon became forgotten. Through the works of William LeGoullon, A-1 Country observes the history and story of the iconic beer that was once the symbol of Arizona 's beer-drinking culture."
For more information on the event, visit http://www.a-1chapter.com/events-calendar.html.