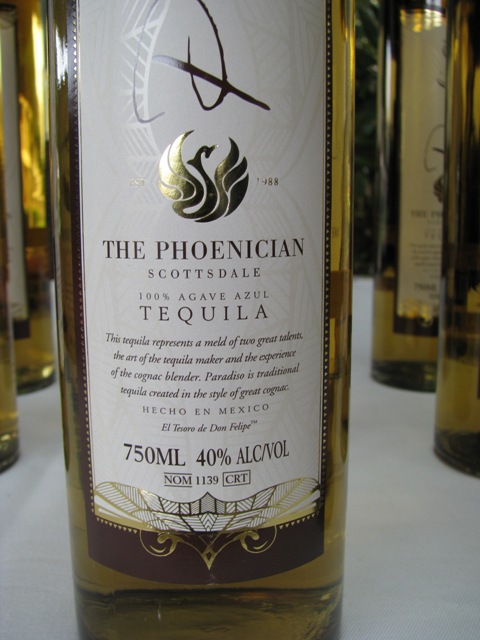 I don't know about you, but any time I frequent a bar or restaurant, tequila is a word that's never uttered from my lips. Maybe it was my inexperience of truly knowing good tequila or that fact I really didn't know how to drink it. Well, that was until now. At a recent luncheon at Arizona's premiere AAA Five Diamond resort, The Phoenician, I had the great honor of meeting La Alteña's third generation master distiller, Carlos Camarena—a legend to many in the tequila industry.
After graduating college with a degree in agricultural engineering, Carlos returned home to Jalisco, Mexico to work in his grandfather's distillery. In 1995, Carlos was promoted to third generation master distiller of El Tesoro de Don Felipe, continuing on with his family's 200-year legacy. Although La Alteña Distillery is a small family-owned and -operated company in the mountains of Mexico, its international success can be seen through its many accolades. Today, the distillery proudly produces four premium brands of tequila, all with a distinctive taste: El Tesoro Platinum (bottled within 24 hours of distillation); El Tesoro Reposado (aged eight to 11 months); El Tesoro Anejo (aged two to three years in oak barrels) and their El Tesoro 70th Anniversary limited–edition tequila (aged seven years in white-oak bourbon barrels). The latter tequila was opened July 7, 2007 to celebrate 70 years of Don Felipe Camarena and El Tesoro's success.
Now, standing in front of a crowd on the patio of Il Terrazzo restaurant at The Phoenician, Carlos has a smile from ear to ear. And why not? He is proudly showing off the fifth generation El Tesoro tequila, Paradiso. This 100 percent blue agave, handcrafted tequila is aged eight years in cognac-barrels and is the only El Tesoro private label in the world. To preserve the bottles' authenticity each is also hand-numbered. Its smooth surface and crisp finish is best sipped slow and pairs perfectly with rich chocolates. Proudly produced in partnership with the resort, this limited-edition Phoenician private label El Tesoro Paradiso sells for $125. Guests of the resort may sample its superior taste at any Phoenician restaurant from mid-morning to midnight.
Our recommendation: order the Phoenician's 5ive P Bellini (Prosecco, Paradiso, pomegranate and prickly pear) or the Paradiso private label margarita (rocks, brown raw sugar rimmed) because, after sampling these fine drinks, I now firmly believe that any time is the perfect time to savor this exquisite, exclusive brand of tequila. 6000 E. Camelback Road, Scottsdale, 480.941.8200, www.thephoenician.com. –Christine Whitton, assistant editor