By Elaina Verhoff
Let's get real. We're home 24-7 for the foreseeable future. And after homeschooling, Zoom meetings, washing our hands 1,000 times, and the daily roller coaster of emotions that seem to accompany a global pandemic, a refreshing cocktail just might be in order. Make sure you're prepared. Skip the grocery store and treat yourself to takeout cocktails for tonight's quarantine happy hour. Here are a few of our favorites.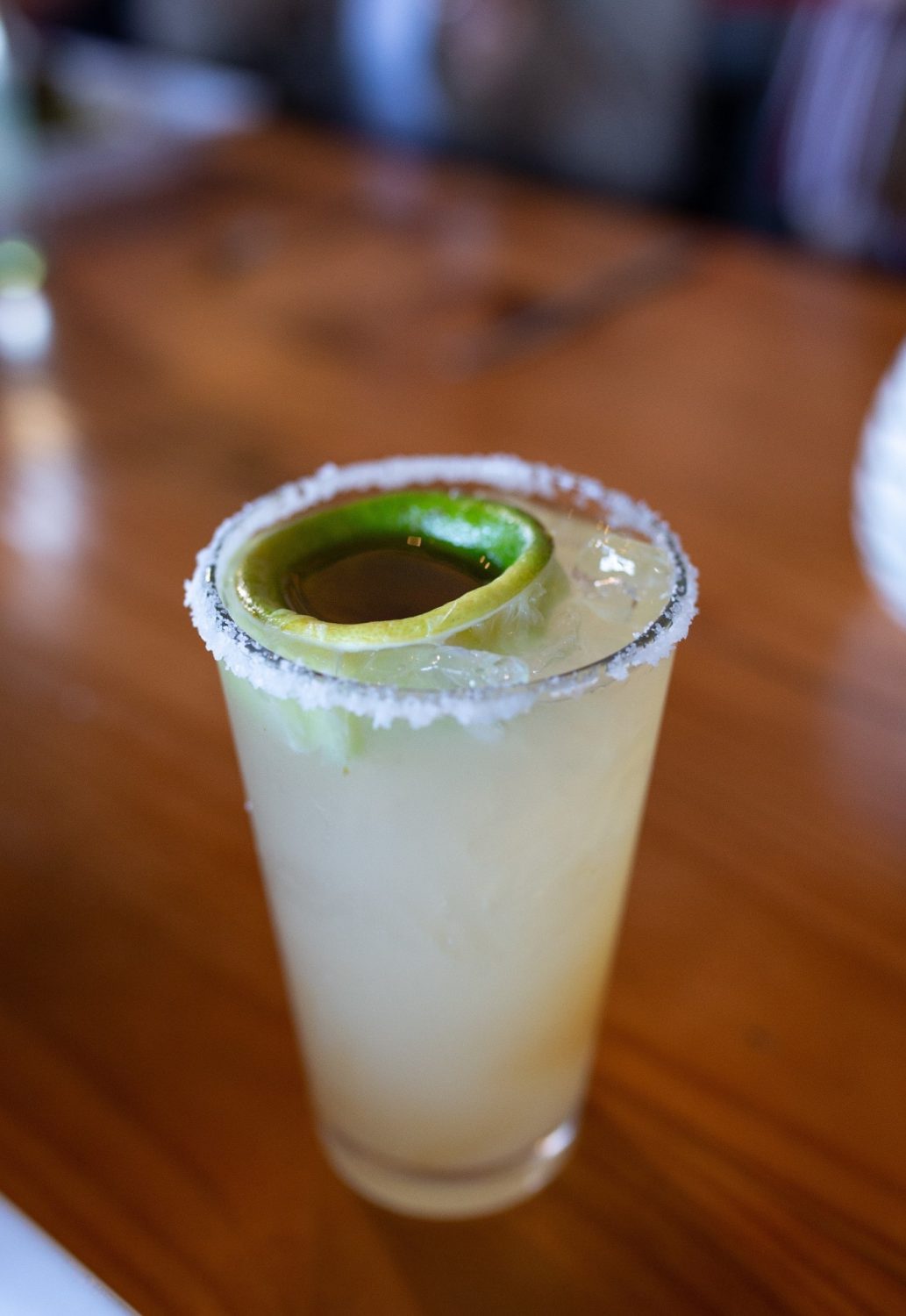 Los Sombreros
If margaritas haven't yet been declared the national drink, somebody needs to get on it. Under normal circumstances, Los Sombreros' fresh, delicious Steve-a-Ritas invoke the feeling of sipping seaside at our favorite Mexican resort – and with our heightened senses kicking in under quarantine, these margs are a beach vacation without the hotel and airfare. And since virtual vacations are the order of the day, let's all grab some chips, guac, and takeout margaritas and head to the pool to play pretend. Available in single serving, or a bottle equivalent to four full size servings.
To order: Drive-thru, curbside and delivery available from the Scottsdale location (480.994.1799) or Uptown location (602,601.6390). Menu at lossombreros.com.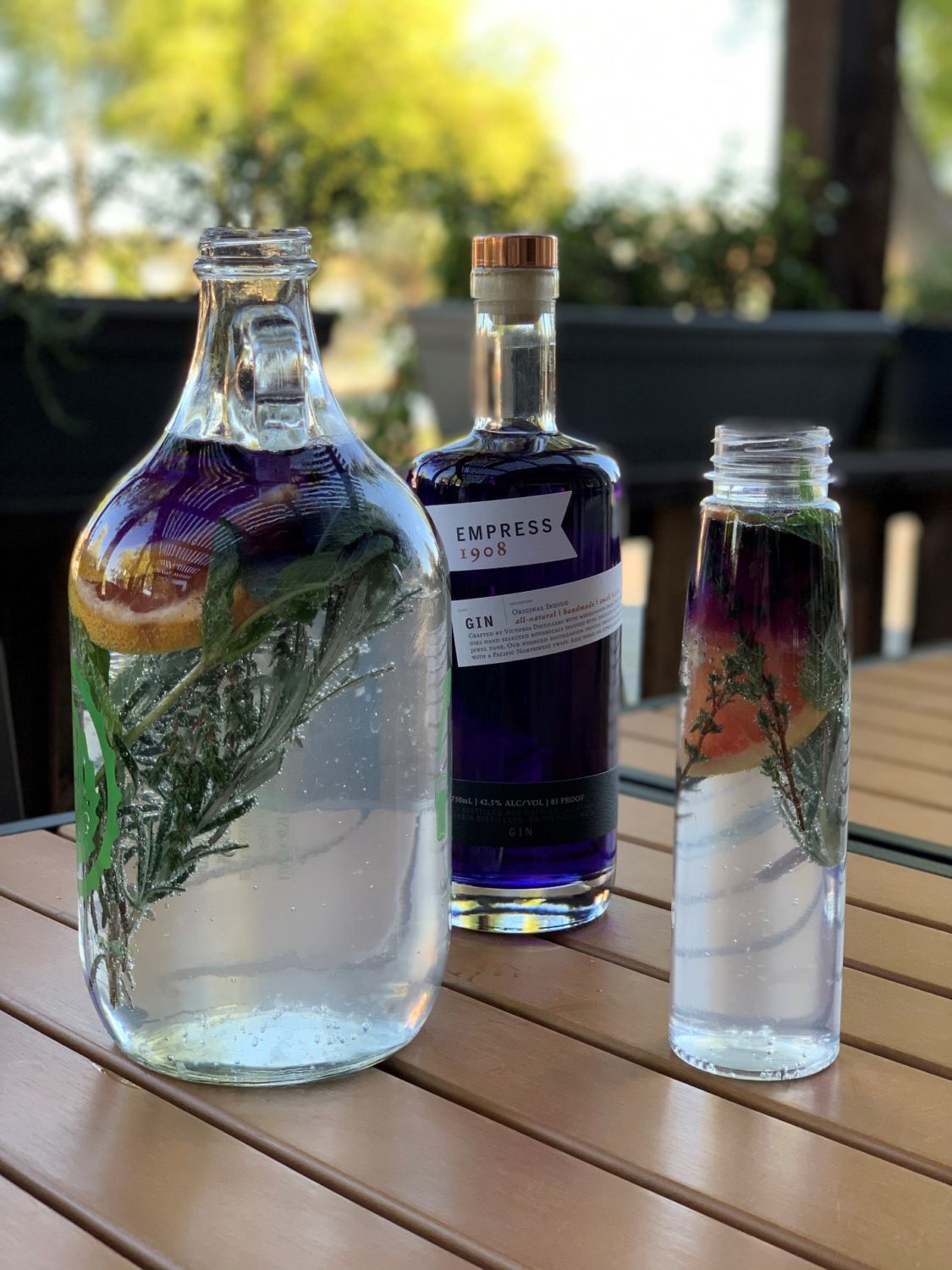 Cook and Craft
If there's one good thing to come out of this global crisis, it's drive-through craft cocktails. Cook & Craft, a new eatery at Scottsdale Road and Shea, is offering online ordering and drive-through pickup for individual or batch servings for 4 or 8. Their specialty cocktails include Blood Orange Palomas (Mi Campo Blanco tequila, lime, agave, Blood Orange Pellegrino, Grapefruit Bitters), Cooks Margarita (Exotico Tequila Blanco, triple sec, lime, lemon, agave – request a floater or ask them to spice it up!), Spanish Gin & Tonic (Empress gin, Fever Tree tonic, fresh herbs, juniper berries), White Sangria (white wine, Peach Schnapps, grapefruit, lemon, rosemary, sparking water), a variety of Mule drinks, and the Willie Nelson (25 MGs CBD – Cook's Poblano & Cucumber infused Tequila, lemon juice, simple, cucumber).
To order: Order online at https://www.cookandcraftaz.com/ or by phone at 480.207.1528.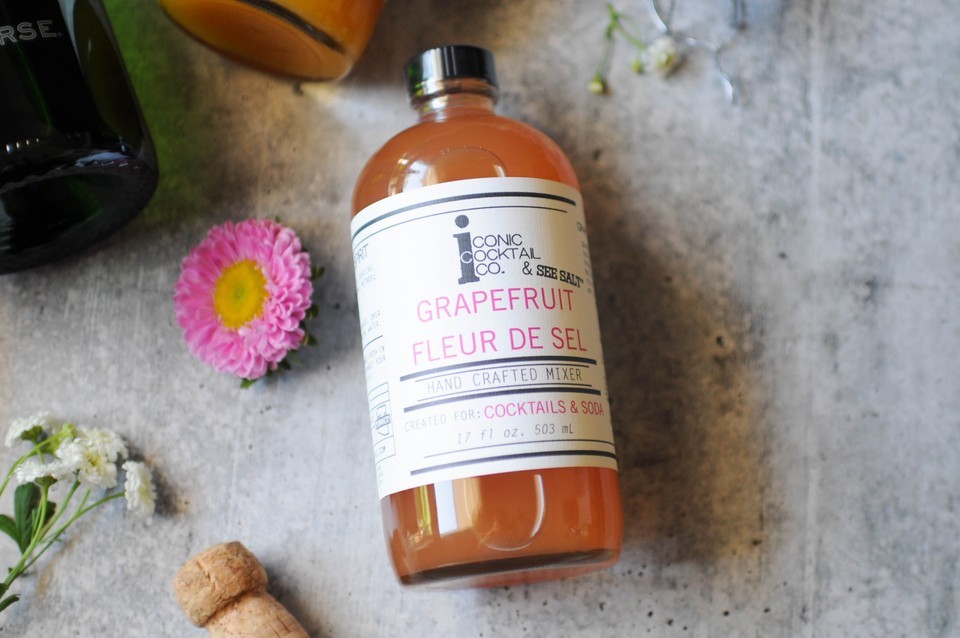 Iconic Cocktail
Iconic mixers are designed for home bartenders or anyone wanting to create their own restaurant-worthy cocktail without a ton of work! Made fresh in small batches with real ingredients, every drop is packed with flavor and low in sugar, so just a splash is all you need to sweeten spirit or sparkling water. Their website is packed with recipes! Try best-sellers Meyer Lemon Balm (available until the end of April) made with McClendon's organic Meyer lemons and herbal lemon balm — pairs with any light or dark spirit, Prickly Pear Sour (available year-round) made with real prickly pear nectar and fresh lemon, or Grapefruit Fleur de Sel (available until June) made with local Rio Reds from McClendon's and hand-harvested sea salt – perfect for mixing up some Palomas or Grapefruit Margaritas! Want to try them all? Build your own Mini Mixer Pack and pick any four flavors for $40.
To order: Go to www.iconiccocktail.com. Free shipping on all orders and 20 percent of proceeds are donated to Arizona Bartenders and Servers during this trying time.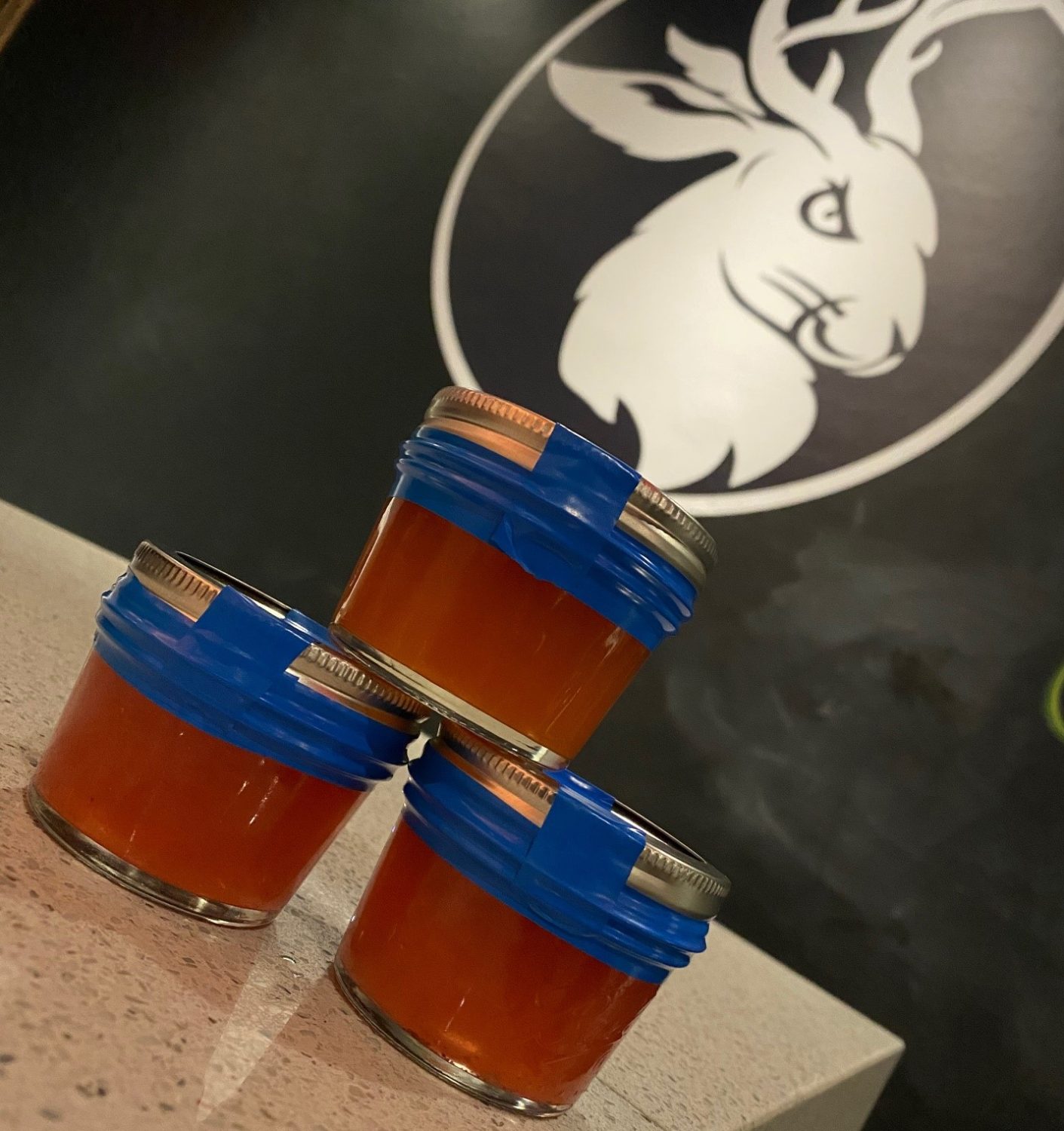 Jackalope Gastropub
If anyone deserves our support, it just might be Jackalope Gastropub, a new downtown Phoenix establishment that opened its doors right about the time all bars and restaurants were being shut down. Try Jackalope's to-go cocktails served in mini mason jars (2 for $15). Currently, three cocktails are available. Go for the Quarantini (citron, vodka, raspberry, blackberry, jalapeno, agave), the Jackhound (gin, passion fruit, lime, aperol), or the Purple Haze (vodka, blueberry, arugula, lime, agave, splash of ginger kombucha). Perfect for your next Zoom happy hour!
To order: Call 602.283.4464 for takeout or Grubhub, Door Dash, or Postmates for delivery.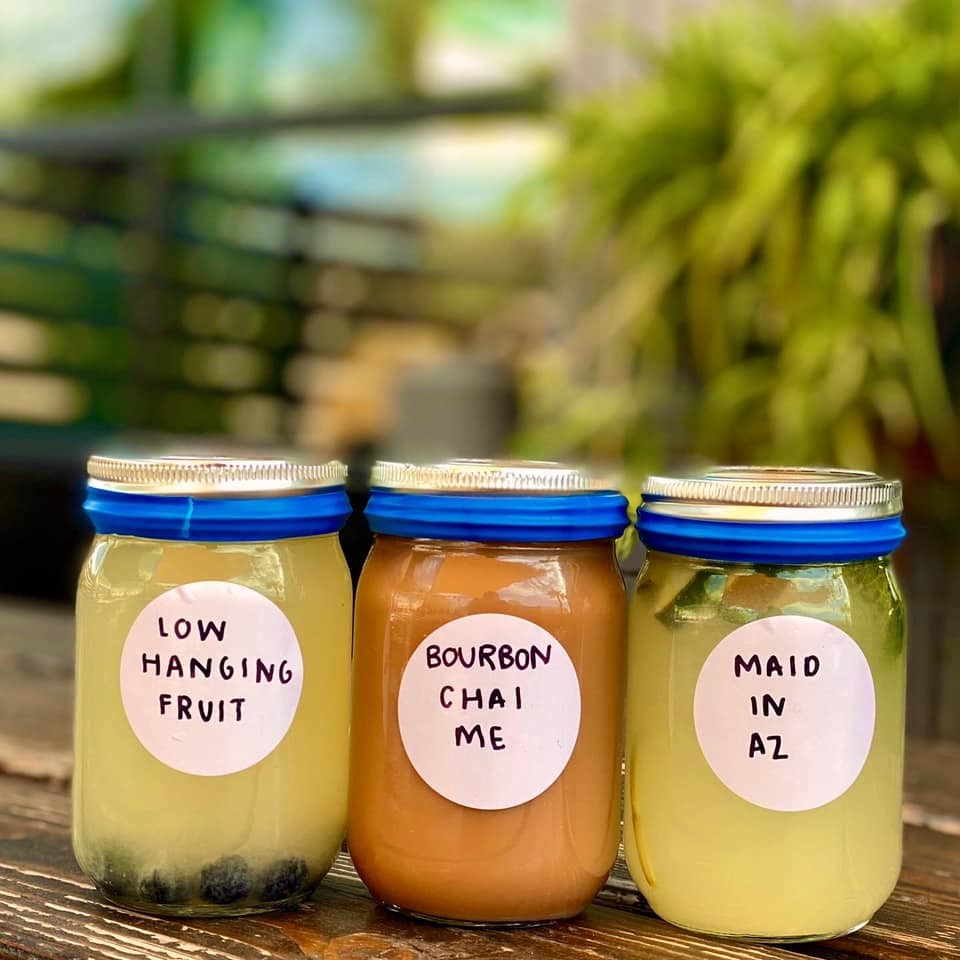 Sip Coffee and Beer
Sip is offering cocktails, growlers of beer, and spirits to go at their drive through location in Scottsdale and Arcadia. So, whether you want a prepared drink, local craft beer, or a full bottle of gin, vodka, or rum so you can play mixologist at home, they have you covered.
To order: Arcadia location offers drive thru, takeout, delivery, and curbside. Scottsdale location offers takeout, delivery, and curbside. Call ahead or order online. Details at sipcoffeeandbeer.com