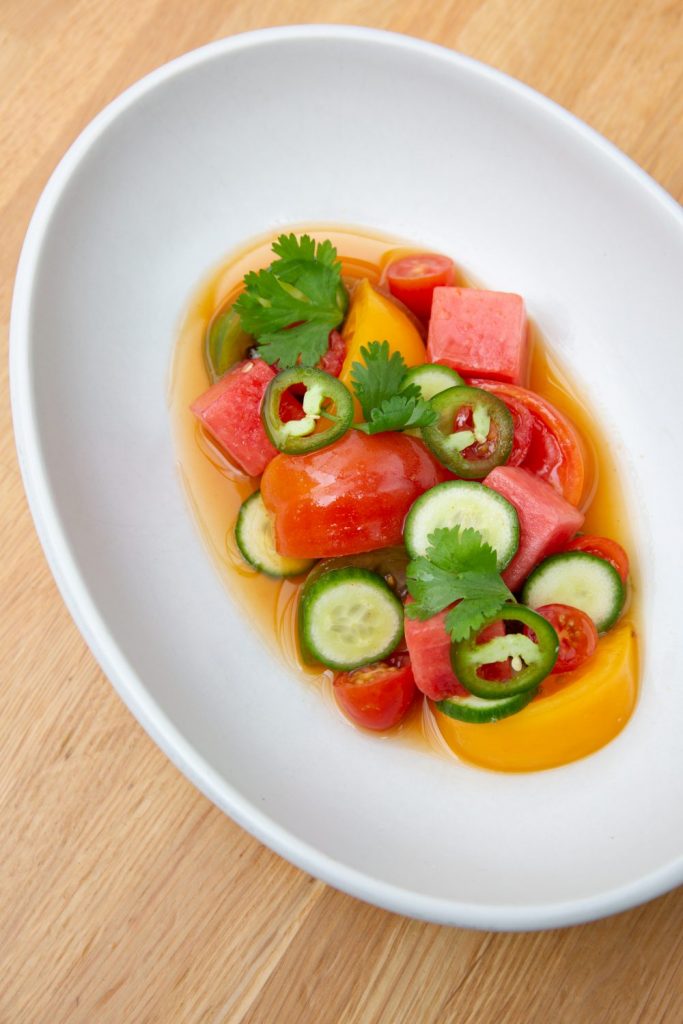 A colorful creation for your summer feasting, this organic heirloom tomato and watermelon dish is on True Food Kitchen's summer menu, which just rolled out. Additional summer menu items include the Summer Corn & Tomato Flatbread, Summer Redfish, the Lavender Float vegan dessert, Watermelon Mojito, Cantaloupe Cooler and an Herbal Lavender Iced Tea.
3 oz.                    Organic Heirloom Tomatoes (1-in. wedges)
3 each Cherry Tomatoes
2 oz                      Watermelon (1-in. cubes)
1 oz                      Persian Cucumbers (1/4-in. disks)
1 pinch Cilantro (rough chop)
1 pinch Kosher Salt
1 oz Turmeric Ponzu
3 each Jalapeno (thin slices)
3 each Cilantro leaves
In a large mixing bowl, gently mix together tomatoes, watermelon, cucumber, cilantro, salt and turmeric ponzu.
Gently place the ingredients down the center of a bowl.
Spoon remaining turmeric ponzu over the top.
Garnish with jalapeno slices and cilantro leaves.
Turmeric Ponzu
Ingredients (yields 1 pint)
¾ cup White Soy Sauce
½ cup Lime Juice
¼ cup Lemon Juice
¼ cup Honey
1 tsp Turmeric (peeled & minced)
½ clove Garlic (minced)
½ tsp Smoked Paprika
⅛ tsp Cayenne Pepper
⅛ tsp Xantham Gum
Combine all ingredients together in a blender.
Blend until well combined.