Cheers to the mama in your life with these delicious–and pretty–cocktail recipes courtesy of Kim Crawford wines.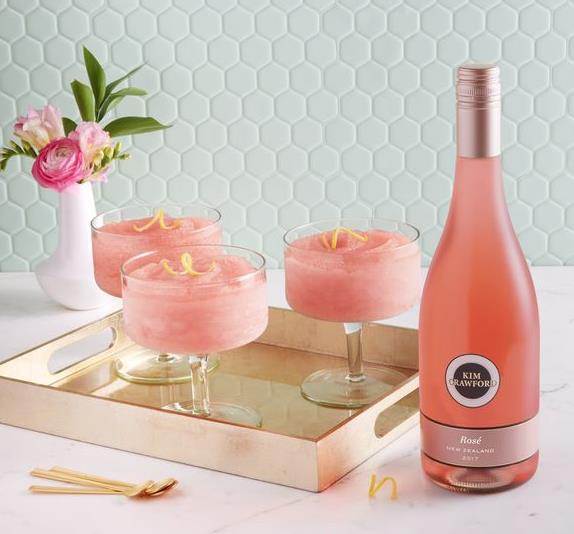 Kim Crawford's Frosé
Makes five servings.
1 bottle Kim Crawford Frosé
Lemon twist to garnish
Two days before serving pour wine into a 9" x 13" pan or several ice cube trays and freeze, stirring occasionally if in a pan. When frozen solid, using a hand blender or food processor, blend frozen wine until smooth. Serve directly or freeze again for up to 1 week, covered. Garnish with lemon twist.
Tips: Freeze two or three bottles at a time for your next hot summer party.
Try with any other Kim Crawford wines.
Don't have a pan? Freeze the wine in a large thick re-sealable bag.


Kim Crawford's Kim de la Crème 
1 bottle Kim Crawford Frosé, well chilled
3 cups sliced strawberries
1/3 cup sugar
Club soda
1 carton vanilla ice cream
Edible flowers to garnish
In a medium bowl, mix the strawberries and sugar. Cover and let sit for 30-90 minutes mixing occasionally. Divide the strawberries and any juices between five rocks glasses, add wine and a splash of club soda. Top with a generous scoop of ice cream. Garnish with your favorite edible flowers.
Tips: Use coconut-based ice cream for dairy free/vegan option.
Substitute peaches, raspberries or any of your favorite summer fruit for the strawberries.
Use honey instead of sugar for a richer flavor.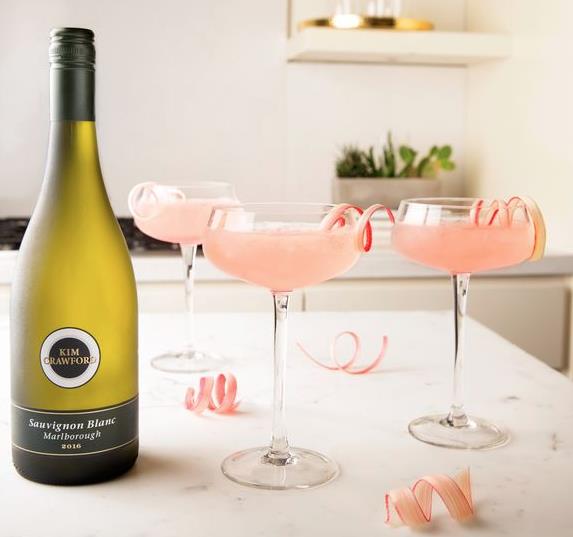 Kim Crawford Rhuby Rad Cocktail
For the cocktail
1 1/2 oz Kim Crawford Sauvignon Blanc
1/2 oz. lemon juice
1/2 oz. rhubarb syrup
1/2 oz, Lillet Blanc Aperitif
Rhubarb ribbon for garnish
For rhubarb syrup
3/4 C thinly chopped rhubarb
1/2 C sugar
1/2 C water
1/4 tsp pinch of orange zest
For one batch (eight servings) rhubarb syrup:
Add the sugar, water, rhubarb and orange zest to a medium saucepan. Cook over medium-low heat, stirring occasionally, until syrup thickens slightly and rhubarb starts to soften and break down (approximately 15 minutes). Strain through a fine mesh strainer. Use the back of a spoon to push on the rhubarb to extract any remaining liquid from the pulp. Let cool and store in the refrigerator until ready to use.
For the cocktail:
Add the lemon juice, rhubarb syrup, Lillet Blanc, and Kim Crawford Sauvignon Blanc to a shaker filled with ice. Shake and strain over new ice into a coupe glass. Garnish with a rhubarb ribbon. (note: a vegetable peeler works well for making nice long rhubarb ribbons).