Jewelry and roses are nice. But what does Mom really want on Mother's Day? To sleep in–only to be awoken by the smell of breakfast cooking. The chefs at Miraval Resort & Spa in Tucson have provided three breakfast recipes that, while decadent, Mom can feel good about eating.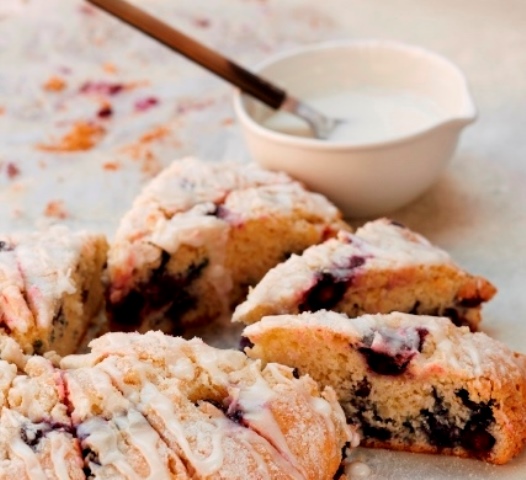 Lemon-Glazed Blueberry Scones
Scones:
2 c. flour
½ c. sugar
1 tbsp. baking powder
2 oz. unsalted butter, cut into small pieces
½ c. nonfat milk
1 whole egg
1 ½ tsp. lemon zest
1 c. fresh or frozen blueberries
Glaze:
½ c. powdered sugar
1 tbsp. lemon juice
Directions for scones:
1. Heat the oven to 350°F. Sift the flour, sugar, and baking powder into a medium-size bowl. Cut in the butter, using a pastry knife or by pinching with your fingers, until the butter and dry ingredients form small crumbs.
2. Mix the milk, egg, and zest together and tehn add to the dry ingredients along with the blueberries. Using your hands, mix until you form a soft dough (being careful not to crush the blueberries in this process)
3. Line a baking sheet with kitchen parchment and spray with nonstick cooking spray. Shape the dough into 7-inch rounds and place on prepared baking sheet. Bake until it is lightly golden brown and springs back slightly when pressed in the center, about 25 minutes. Let cool and cut into 16 wedges.
Directions for glaze:
1. Whisk the powdered sugar and lemon juice together in a small bowl until smooth. Once the scones have cooled, glaze them by taking a spoon and quickly drizzling the glaze over the scones.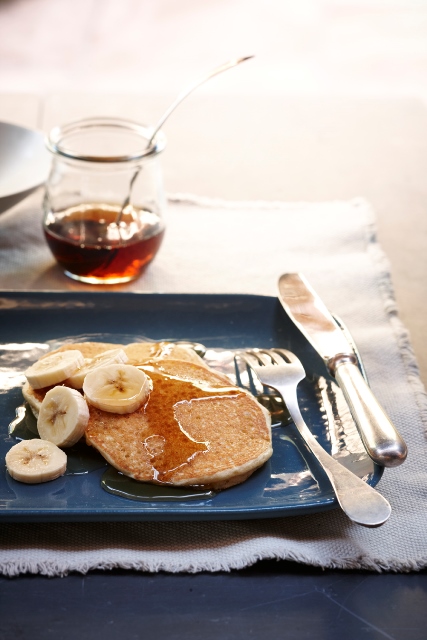 Fluffy Gluten-Free Pancakes
1 c. rice flour
¼ c. tapioca flour
¼ c. potato starch
1 ½ tsp. baking powder
½ tsp. baking soda
½ tsp. salt
¼ tsp. xanthan gum
1 ½ c. low fat buttermilk
3 tbsp. unsalted butter, melted
2 whole eggs
4 tbsp. granulated sugar
½ tsp. pure vanilla extract
Directions:
1. Put the rice flower, tapioca flour, potato starch, baking powder, baking soda, salt and xanthan gum in a medium bowl and whisk lightly to mix
2. In a separate bowl, whisk together the buttermilk, melted butter, eggs, sugar and vanilla.
3. Add the wet ingredients to the dry ingredients, and mix with a whisk or rubber spatula until the batter is almost smooth; a few small lumps are fine, but try not to overmix.
4. Spray a nonstick skillet or griddle with some nonstick cooking spray and heat over medium heat. Pour about ¼ cup of batter onto the skillet, leaving room for more pancakes; repeat until you have a few pancakes in the pan but still enough room to slide in your spatula to flip them. Once the bottom of the pancake is nicely browned and lifts free from the skillet, flip it and cook until the other side is browned as well. Serve right away.
Guilt-Free Donut Holes
2 cups all-purpose flour
3/4 cups granulated sugar
2 tsp baking powder
1/2 tsp cinnamon
2 whole eggs
1/8 cup melted butter
1 cup lowfat buttermilk
Directions:
• Sift the dry ingredients together in a bowl
• Whisk all the wet ingredients together in a separate bowl
• Add wet mixture to dry mixture
• Mix until combined.
• Bake your donut holes using a cake pop machine…this is Miraval's secret instead of frying donuts.
• You can make these ahead and store up to a day, but right before serving, heat ½ tsp of canola oil in a frying pan and add donuts. Shake pan constantly to make sure each donut is evenly coated and browned and immediately toss into a bowl of cinnamon and sugar (1/4 c. sugar to ½ tsp cinnamon)
• Roll each donut hole in cinnamon and sugar and serve immediately.