Just because something is sweet doesn't mean it has to be bad for you, right? Right. Well, cookbook author Lisa Barnes has come up with a collection of tasty, healthful recipes for kids–and their adult counterparts. Here are a few sweet excerpts from PETIT APPETIT: Eat, Drink, and Be Merry (Perigee; March 2009–be sure to pick it up next month. The cookbook can be pre-ordered at Amazon).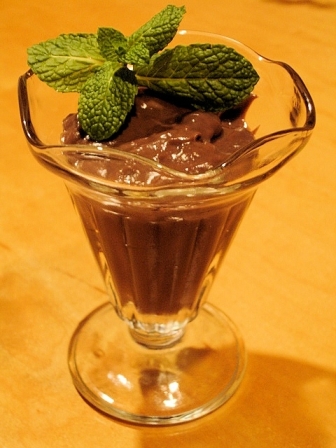 Minty Chocolate Pudding
Makes 9 (1/2 cup) servings
3 C Organic nonfat milk
½ C Packed fresh mint leaves (about ½ ounce)
2/3 C Evaporated cane juice
¼ C Cornstarch
3 T Organic unsweetened cocoa powder
1/8 tsp. Salt
3 Large cage-free organic egg yolks, lightly beaten
½ tsp. Pure vanilla extract
2 ounces Organic semisweet chocolate chips or pieces
Heat milk over medium-high heat in a medium-size heavy saucepan until tiny bubbles form around edge. Be careful not to boil. Remove from heat and add mint. Let stand for 15 minutes. Strain milk through a sieve over a bowl. Return milk to pan. Discard mint solids. In a small bowl, whisk together evaporated cane juice, cornstarch, cocoa, and salt; add to milk. Over medium heat, bring milk mixture to a boil, stirring constantly with a whisk until mixture thickens, about 5 minutes. Place egg yolks in a medium bowl and gradually add half of hot milk mixture, stirring constantly with a whisk. Add egg mixture to pan and bring to a boil, stirring constantly. Cook until thickened, about 1 minute. Remove from heat and add vanilla and chocolate, stirring until chocolate is melted. Pour pudding into ramekins and allow to cool. Wrap each ramekin with plastic wrap and chill in refrigerator for 1 hour.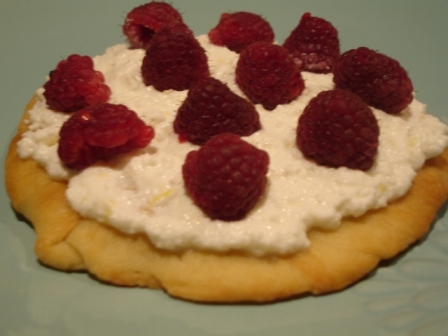 Berry Sweet Pizza
Makes 8 servings
Crust:
1 T Active dry yeast (1 ounce package)
½ C plus 2 T Warm water
¾ C Unbleached all-purpose flour
¼ C Extra-virgin olive oil
½ tsp. salt
½ tsp. Evaporated cane juice
Topping:
1 C Smooth ricotta cheese (rBGH free)
1 tsp. Freshly squeezed organic lemon juice
2 tsp. honey
1 tsp. Grated organic lemon zest
1 C Organic raspberries
Preheat oven to 425 degrees F. Line a large baking pan with parchment paper. To make the crust: In a large bowl, dissolve yeast in warm water. Let stand until foamy. Add remaining ingredients to yeast and water. Mix together and knead by hand until dough is smooth, about 3 minutes. Make dough into a ball and return to bowl; cover with plastic wrap. Let rise at room temperature until doubled, about 30 minutes. Knead dough for about 2 to 3 minutes and divide in half. Divide each half in half again so you have 4 equal balls. Roll out each ball into a flat circle about 5 inches across. Place pizzas on prepared baking sheet. Bake for 12 to 15 minutes, until golden brown. To make the topping: Combine all topping ingredients except raspberries in a small bowl. Spread each pizza with cheese mixture (about ¼ cup each). Arrange raspberries on top of cheese mixture. Cut into 8 pieces.