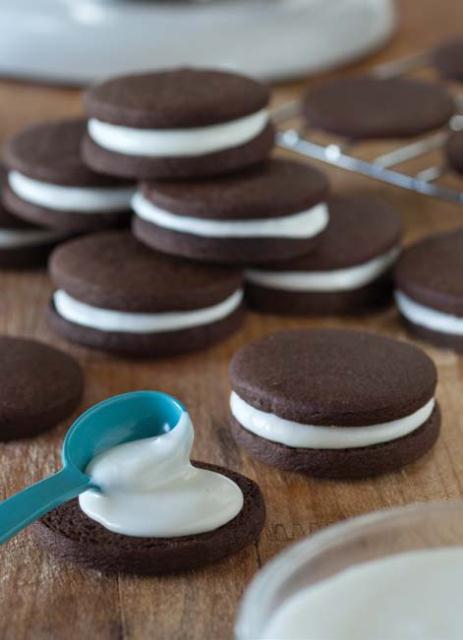 Oreos, Goldfish crackers, Twinkies, Fruit Roll-Ups. Recipes for these classic eats and more are available in the new cookbook, "Classic Snacks Made from Scratch" by popular food blogger Casey Barber. The book features more than 70 recipes of timeless snacks that range from yummy after-school treats to scrumptious desserts (homemade Klondike bar, anyone?). Here are a few such recipes to get you started:
Goldfish Crackers
Yield: 10 to 15 dozen crackers (depending on cookie-cutter size)
Total time: 1 hour
Special equipment: goldfish-shape cookie cutter
1 cup (4 ounces) very finely shredded sharp Cheddar cheese
½ cup (21⁄8 ounces) unbleached all-purpose flour
½ cup (21⁄8 ounces) cake flour
1 tablespoon Cheddar cheese powder
1 teaspoon kosher salt
½ teaspoon baking powder
¼ teaspoon onion powder
¼ cup whole or reduced-fat milk
1 tablespoon vegetable oil
Dough: Stir the cheese, flours, cheddar powder, salt, baking powder, and onion powder together in a large bowl until the cheese is evenly distributed and coated. Add the milk and vegetable oil and continue to stir with a spatula, then knead in the bowl with your hands until a cohesive dough forms. It will be crumbly at first, but continue to press and knead the dough until any dry bits are incorporated. Transfer the dough to your work surface, cover with the upside-down bowl, and let rest for 10 minutes.
Crackers: Preheat the oven to 375˚F. Line 2 baking sheets with parchment paper or Silpat liners. Divide the dough into 2 pieces. Refrigerate one piece while you roll the second piece as thin as humanly possible, no more than ⅛ inch thick. (The thinner your dough, the crispier your crackers will be; thicker dough means puffier, more bread-like crackers.) Stamp out cracker shapes with your cookie cutter of choice: a fish is the traditional shape, of course, but the crackers taste just as good as hearts, stars, circles, or small squares. Transfer the shapes to the prepared baking sheets. Bake for approximately 15 minutes, until the crackers are crispy and just turning golden at the edges. The timing will vary according to the size and shape of your crackers. Transfer to a wire rack and let cool completely. The crackers will soften when kept in an airtight container, so they're best eaten within a day or two.
Oreos
Yield: 3 dozen filled cookies
Total time: 2 hours, including dough chilling time
Special Equipment: stand mixer, 1½-inch round cookie or biscuit cutter
Cookies:
3 cups (12¾ ounces) unbleached all-purpose flour
½ cup (1½ ounces) unsweetened cocoa powder
1 tablespoon baked soda
1½ teaspoons baking powder
1 teaspoon kosher salt
2 ounces semisweet chocolate, coarsely chopped (a scant 1⁄3 cup)
8 tablespoons (4 ounces) chilled unsalted butter, cut into ½-inch cubes
½ cup (3¼ ounces) vegetable shortening
1 cup (7 ounces) granulated sugar
2 large eggs
Filling:
2½ cups (10 ounces) powdered sugar
2 tablespoons light corn syrup
2 tablespoons whole or reduced-fat milk
1 tablespoon vegetable shortening
Cookies: Whisk the flour, cocoa powder, baked soda, baking powder, and salt together into a large bowl until no lumps remain. Melt the chocolate in a small saucepan over low heat, stirring constantly, or microwave at 15-second intervals, stirring between each burst, until liquefied. Set aside to cool slightly. In the bowl of a stand mixer fitted with the paddle attachment, beat the butter, shortening, and sugar on medium speed for 3 to 4 minutes, until light, fluffy, and creamy. Reduce the speed to low and add the eggs one at a time, mixing thoroughly before adding the next. Pour in the melted chocolate and mix until just combined. Add the dry ingredients and mix until a soft dough forms. Shape into 2 discs of roughly equal size and wrap each in plastic wrap. Refrigerate for at least 1 hour, until firm. Preheat the oven to 375˚F and line 2 baking sheets with parchment paper or Silpat liners. On a floured work surface, roll one of the dough discs to ¼-inch thickness and stamp out cookie rounds, using a 1½-inch cookie or biscuit cutter. Transfer the rounds to the prepared baking sheet and repeat with the remaining disc of dough. Bake for 10 to 12 minutes, or until the cookies are slightly crispy at the edges and puffed but still pliable in the center. Cool completely on a wire rack before filling.
Filling: Using the stand mixer fitted with the paddle attachment, mix the powdered sugar, corn syrup, milk, and shortening on low speed until combined, about 30 seconds. Increase the mixer speed to medium and beat for 30 more seconds to whip slightly. With the flat side of a cooled cookie facing up, spoon 1 teaspoon filling onto the center. Top with a second cookie, flat side down, spreading the filling evenly. Repeat to fill all the cookies. Store the cookies at room temperature in an airtight container for up to a week.