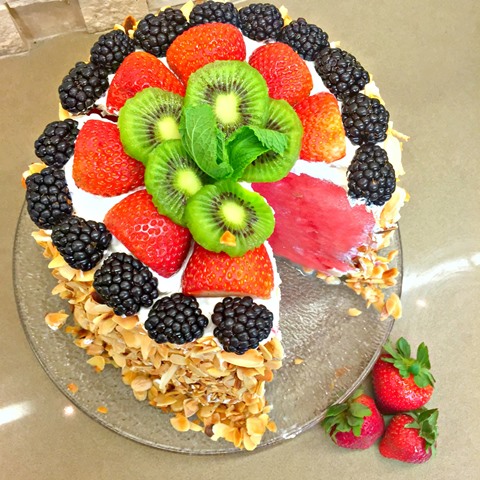 The Fourth of July and watermelon pretty much go hand-in-hand. What is a July 4 picnic without a huge slice of juicy watermelon? Well, Lucia Schnitzer of Luci's Healthy Marketplace in Phoenix is giving readers a new way to enjoy this summery fruit with the festive, easy-to-make watermelon cake.
Ingredients:
– 2 cups vanilla yogurt
– 8 oz whipped cream or coconut whipped cream
– 1 large watermelon
– Blueberries
– Strawberries
– Almonds
Instructions:
To make the coconut whipped cream:
-Whip yogurt and whipped cream until the cream is fluffy. Place the bowl of whipped cream in the fridge until ready to use.
To make the toasted almonds or coconut:
1. Place a medium-sized skillet over medium-high heat and allow the pan to get hot.
2. Add the sliced almonds or shredded coconut and toss in the pan until they are toasted and turn a light brown color. Remove from pan and set aside to cool.
To assemble:
1. Remove the top and bottom from the watermelon and remove the rind from the middle section. You should be left with a cake-shaped piece of watermelon. Cut the watermelon "cake" into the number of wedges/slices you want, about 6-8 slices depending on the size of the watermelon. NOTE: You can leave the watermelon intact if you plan on traveling with it or do not want to cut it. Slicing a cake ahead of time just makes it much easier to dip the edges into the icing and then into anything else you want to adhere to the icing, such as the almonds or toasted coconut.
2. Pat the outside of the watermelon dry with paper towels (this is important because it will help the coconut whipped cream adhere better).
3. Dip the outside edge of each slice into the coconut whipped cream and then into the toasted almonds or coconut, and reassemble the wedges into the cake shape on a serving platter. Top with more whipped coconut cream and your favorite fresh fruit (pictured are blackberries, strawberries and kiwi). Serve or store in the refrigerator until ready to serve.