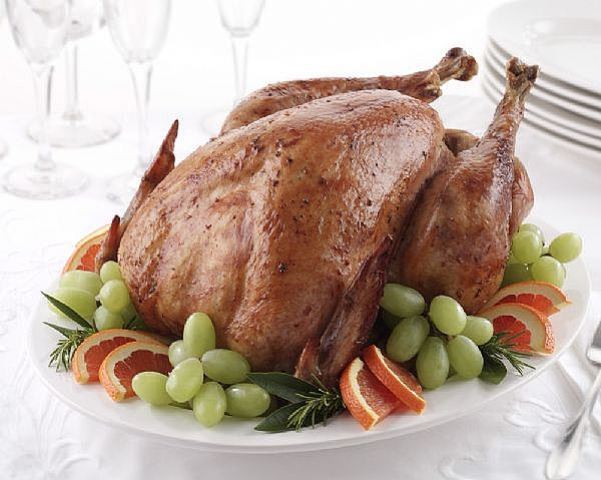 To honor this week's Thanksgiving holiday (goodness, doesn't Turkey Day seem early this year?), we're providing a few festive recipes this week to give your tasty inspiration for your Thursday feast. First up, the bird.
The Perfect Turkey
Courtesy of Chef Jeff Fearing of Fleming's Prime Steakhouse & Wine Bar in Peoria
13 – 15 lb Turkey (organic, free range, air chilled)
Turkey brine (recipe follows)
4oz Yellow onion, rough chopped
2 oz Celery, rough chopped
2 oz Carrots, peeled and rough chopped
6 sprigs Fresh thyme
4 each Fresh garlic cloves, smashed
4 Tbsp. Butter, room temperature
1 ½ Tbsp Kosher salt
1 Tbsp Fresh cracked black pepper
Prepare turkey brine. Remove giblets from turkey and rinse under cold water. Place turkey in a container large enough to hold the turkey. Pour brine over turkey making sure it is totally submerged. Place in the refrigerator and allow to brine for 24 hours. Remove turkey from brine and pat dry with a clean towel. Place onions, celery, carrots, garlic, and fresh thyme into the cavity of the turkey. Take some butchers twine and tie the legs together. Rub melted butter all over the outside of the turkey. This helps in the browning process. Season with Kosher salt and fresh cracked black pepper. Place the turkey on a cooking rack and put in a 375 degree oven until the internal temperature reaches 160 degrees in the breast and thigh meat. You will want to rotate the bird half way through cooking. Allow your turkey to rest for at least 30 minutes before serving.
Turkey Brine
2 oz Fresh thyme
8 each Fresh garlic cloves
3 each Oranges
3 each Lemons
8 oz Carrots, peeled and rough chopped
8 oz Celery, rough chopped
8 oz Onions, rough chopped
1 cup Brown sugar
1 cup Kosher salt
¼ cup Black peppercorns
2 gallons Water
1 gallon Ice
Cut oranges and lemons in half and squeeze juice into a pot. Add the whole organs and lemons to the pot. Add thyme, garlic, onions, carrots, celery, brown sugar, kosher salt and black peppercorns to the pot. Add water. Place pot over medium high heat bringing brine to a boil. Remove from heat and add 1 gallon of ice. Cool brine completely. Once brine is cold, place in a container large enough to hold your turkey. Add turkey and brine overnight.