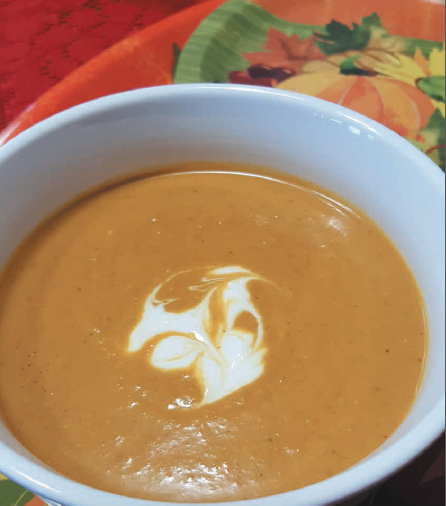 End Thanksgiving week with a healthful pumpkin soup recipe from cookbook author and food addiction specialist, Lisa Sharon Belkin.
1 T. butter
1 medium onion, chopped
3 cloves garlic, chopped
1 T. curry powder
1 t. ground cumin
1 t. thyme
¼ t. cayenne pepper
½ t. paprika
1 t. ground ginger
¼ t. nutmeg
1 T. chicken broth soup mix powder (I use Knorr)
½ c. peanut butter
One 15-oz. can pumpkin puree (not pie filling)
1 Granny Smith apple, chopped
4 c. low-sodium chicken broth
1 t. hot sauce (I use Sriracha)
Ground black pepper
Seasoned salt
Gather together your spices, measure, and place in a small bowl. Measure the curry powder separately. Set aside.
In a soup pot, saute the onions and garlic in the butter over medium–low heat until slightly softened. Add the curry powder and cook for one minute.
Add the peanut butter, pumpkin, apple, spices, and chicken broth. Combine well and bring to a boil.
Reduce heat to very low so it barely boils. Cover and simmer for 15 minutes. Stir occasionally.
Remove from heat and let cool. When cooled enough to use an immersion blender, puree until smooth.
Adjust salt and pepper to your taste. I find that seasoned salt adds extra flavor. Ladle into bowls and enjoy this unique flavored soup!
NOTE: Add a scoop of unflavored whey protein isolate powder (one that mixes smoothly in liquid) to up the protein in this soup. First, dissolve the powder in a small amount of water until you have a smooth paste, then mix it well into your hot bowl of soup.