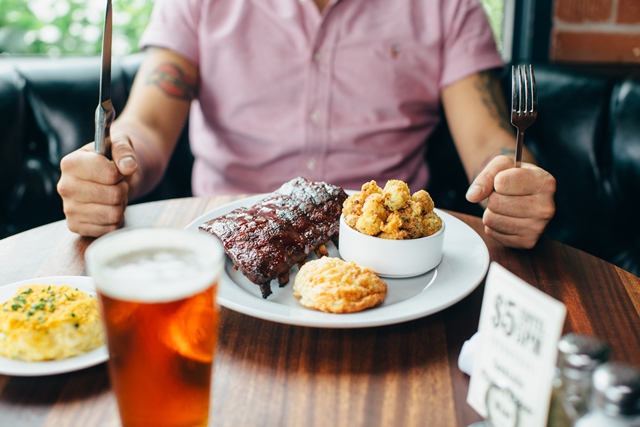 Pair these ribs, courtesy of Windsor, with a side of coleslaw and mac and cheese for the ultimate Father's Day feast.
BBQ Sauce:
Makes 2 quarts
44 oz. Ketchup
6 oz. Apple cider vinegar
3 oz. Liquid smoke
4 oz. Brown sugar
6 oz. Honey
2 oz. Yellow mustard
¼ tsp. Chili flakes
1 T Mustard powder
Pork Rib Rub:
Makes 1.5 quarts
3 C Brown sugar
1 C Smoked paprika
½ C Garlic powder
½ C Onion powder
1 T Cayenne
¼ C Salt
2 tsp. Ground black pepper
Sauce: Combine all ingredients in a pot, and simmer for 30 minutes. Stir occasionally. Cool and store for up to seven days. Rub: Combine all ingredients together in a mixing bowl, and mix well. Store in an airtight container. Ribs (can be done a day in advance): Preheat oven to 225 degrees. Coat ribs with the rub until each rack is covered completely. On a sheet tray or cookie tray, place ribs curve-side up the trays and bake for two to two and a half hours, checking them every 45 minutes. You want them to be tender and almost falling off the bone. Once the ribs have come out of the oven, let them cool at room temperature for a half an hour. Once cooled, store in an airtight container or wrap each rack in plastic wrap. When ready to grill the ribs, preheat your grill to about 450 degrees. Place the ribs on the grill curve-side down. Brush them with some of the sauce.  Flip the ribs over, and let them heat up some more. For the last three minutes of grilling, you want to brush the ribs with more sauce, close the lid and let them glaze.