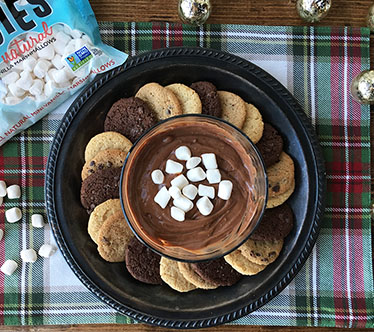 Seeking a cozy recipe to keep you warm during your laidback New Year's Eve party? Dandies Mini Marshmallows provides the perfect easy-to-make dip to savor as the ball drops.
Hot Chocolate Party Dip 
8 oz vegan cream cheese
5.3 oz unsweetened vegan yogurt
2/3 cup sugar
1/3 cup cocoa powder
1 tsp vanilla
Using a stand mixer or hand mixer combine all ingredients except Dandies. Whip until mixture is smooth. Optionally mix in some Dandies Mini Marshmallows to party dip. Transfer to a dish and top with any leftover Dandies. Serve with cookies and enjoy.
Recipe by Chelsie Jangord