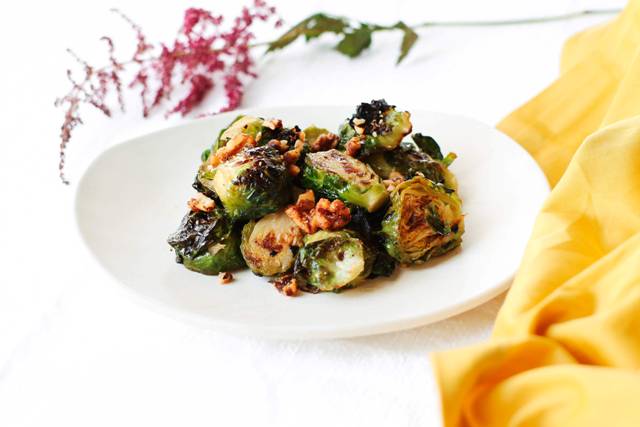 Don't wait until Christmas dinner when you can make this veggie side dish from Chef Nate Weir of Modern Market Eatery, you know, now.
Honey Balsamic Brussels Sprouts
Makes about 6 portions.
3 T Honey
1.5 T Balsamic Vinegar
1/2 C Walnuts, shelled
2 lbs. Brussels Sprouts
1 T Olive Oil
1 tsp. Salt, kosher
Preheat oven to 350F. While oven is heating, fill a pot with four quarts water and bring to a boil over high heat.
Prepare sprouts by removing the woody stem end, then cutting in half. Discard any loose leaves.  Rinse well in colander and allow to drain. 
Spread walnuts on a baking tray in a single layer. Once oven is hot, cook walnuts until they are golden brown and smell toasted, five to 10 minutes.  Remove tray from oven and set aside to cool.
Add cut and washed Brussels sprouts to boiling water. Cook for four minutes, then drain in colander.   Immediately spread out in a single layer on another baking tray, and allow them to cool to room temp, about 30 minutes.  This step lets moisture steam away from the blanched sprouts, which will help them roast. 
While sprouts are cooling, roughly chop the toasted walnuts into smaller pieces. Whisk together honey and balsamic vinegar to make a thick, smooth glaze.   At this point, all ingredients can be saved and cooked as much as three days later, if desired. 
When ready to serve, preheat oven broiler. Line a baking tray with aluminum foil.  Toss sprouts with 1 T olive oil, then spread onto tray in a single layer.  Roast in hot oven under broiler, shaking the tray occasionally, until sprouts are fully hot, toasted, and starting to char.  The sprouts should have some dark, almost burnt leaves.
Remove roasted sprouts from oven. Pour honey glaze over top, then toss to coat with glaze.  Season to taste with salt.  Transfer to serving dish, and top with toasted walnuts.