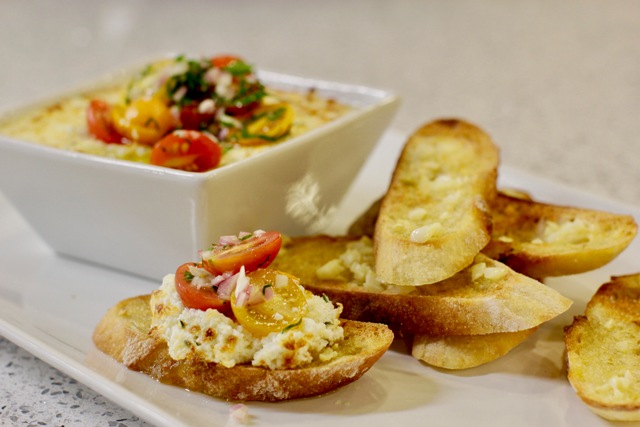 Who's ready to dig into warming, comforting fall dishes? Us too. Here, Chef John Vite of Superstition Mountain Golf & Country Club shares a delicious fall-friendly recipe that is perfect for entertaining–or maybe just whipping up for date night on the couch with a cozy movie.
Warm Goat Cheese and Mascarpone Dip with Tomato Relish and Garlic Bread "Bruschetta"
Tomato relish
2 c teardrop tomatoes (halved)
½ c red onion (minced)
2 tbls balsamic vinegar
1 tbsp extra virgin olive oil
Goat cheese dip
10 oz of goat cheese (room temp)
4 oz of mascarpone cheese (room temp)
1 tbsp fresh thyme (rough chopped)
1 tbsp lemon zest
Drizzle of extra virgin olive oil
Bread
Loaf of French or Italian bread (sliced into ½ in medallions)
½ c extra virgin olive oil
¼ c garlic (minced)
Sea salt

Tomato relish:
Place all ingredients in mixing bowl and toss to combine. Let rest at room temperature to marinade for one hour.
Goat cheese dip:
Preheat oven to 400 degrees.
Place both cheeses in a mixing bowl and with a hand-held blender or a kitchen aid fitted with a paddle, blend cheeses until smooth.
Gently fold in thyme and lemon zest until fully incorporated.
Coat a one-quart oven proof dish with just enough olive oil to cover the bottom, then carefully spoon in the cheese mixture. Don't worry if it doesn't look compressed in the pan as it will come together while it cooks.
Bake on the center rack for 15 minutes or until golden brown. Remove from the oven and let rest 10 minutes before serving.
Bread:
In a small bowl, mix together olive oil and garlic.
Brush each slice of bread heavily with the garlic oil, then lightly sprinkle with sea salt.
Grill each piece until golden brown – a slight charring will add flavor if desired.
Alternatively, cook bread on a large, stovetop pan or griddle until toasted, or placed in a 425-degree oven, directly on the baking rack, and bake for 5-10 minutes.
Bread should be crispy on the outside and slightly soft in the center.
Assembly
Once cheese has rested for 10 minutes, spread a large spoonful of dip onto of each slice of bread and top with tomato relish.
Alternatively, spoon the tomato relish directly on top of dish of warm cheese and use the bread to scoop the mixture like a dip.