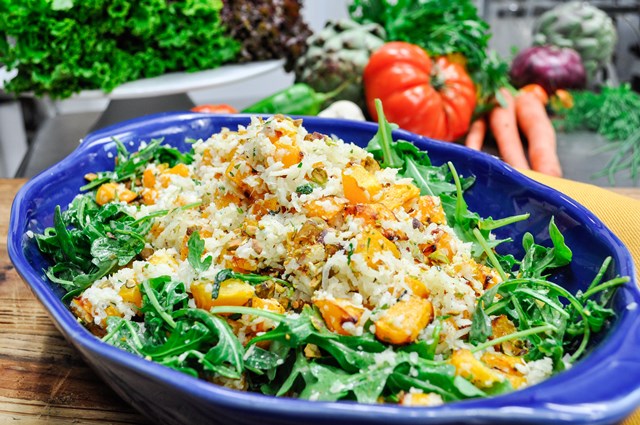 Get a taste of fall through this light and delicious Mediterranean recipe from Chef Antonio Iocchi of Zoës Kitchen. Additional fall-inspired Mediterranean recipes can be found on the Zoës Life blog at blog.zoeskitchen.com.
Cauliflower, Butternut Squash and Arugula Salad
½ pint of Zoës Kitchen lemon vinaigrette dressing (any vinaigrette will work for this recipe)
1 quart of Zoës Kitchen cauliflower rice
1 butternut squash
1 lb. of arugula
¼ lb. of pistachios
½ tsp of salt
¼ tsp of black pepper
Extra-virgin olive oil.
Preheat oven to 350 degrees. Slice both ends of the butternut squash and peel squash with a vegetable peeler. Slice squash in half lengthwise, then remove the seeds with a spoon. Cut the squash into half-inch pieces. In a mixing bowl, add squash, salt and pepper and drizzle with extra-virgin olive oil. Place parchment paper on a cookie tray and spread squash across it. Place in the oven and bake for 15 to 20 minutes until golden brown. While the butternut squash is roasting, place the arugula in a mixing bowl and add lemon vinaigrette dressing to taste. In a separate bowl, mix together cauliflower rice and roasted butternut squash. Place the arugula in a serving dish and add scoops of cauliflower rice and butternut squash on top.