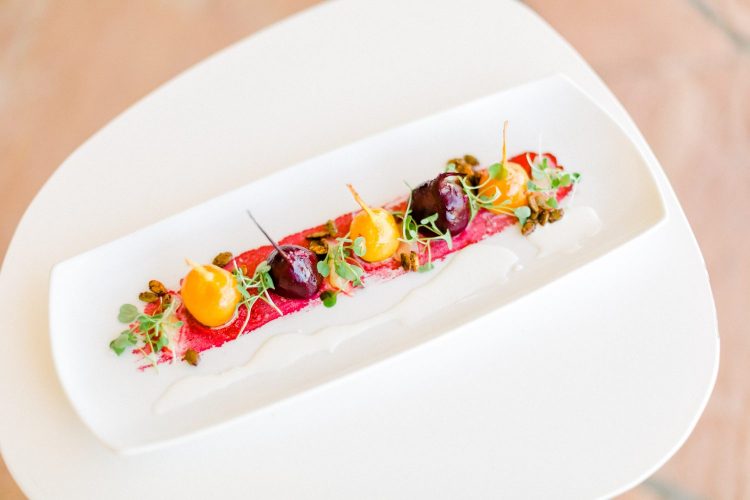 Photo credit: Whitney B Photography
Bursting with sunset hues, dig into this vibrant dish from Chef Justin Macy of CIVANA's Terras restaurant.
2 Baby red beets
2 Baby golden beets
1 T Apple cider vinegar
1 Large red beet, juiced (reduced by half)
1 T Chili-dusted pepitas (recipe below)
5 Lemon segments
2 tsp. Goat cheese coulis (recipe below)
1 oz. Micro arugula
1 tsp. Extra virgin olive oil
1 tsp. Maldon sea salt flakes
Wash baby beets and place in roasting pan. Add one-fourth cup of water, one tablespoon of apple cider vinegar and a pinch of salt and pepper. Cover with foil and roast at 350 degrees for about 30 minutes. While still warm, peel skins from the beets leaving the tips of the roots. Juice one large red beet, and place into sauté pan. On medium heat, reduce beet juice by half and transfer into container to cool. Toast pepitas with olive oil, salt, pepper and chili powder for 10 minutes at 325 degrees. Blend two ounces of fresh goat cheese, one teaspoon of rice wine vinegar and two tablespoons of cold water until smooth. Peel and cut out lemon segments Plating: Lightly brush the reduced beet reduction on the plate, place the beets in a line. Between every other beet, place a lemon segment. Sprinkle toasted pepitas on the plate, and drizzle goat cheese coulis alongside the plate.