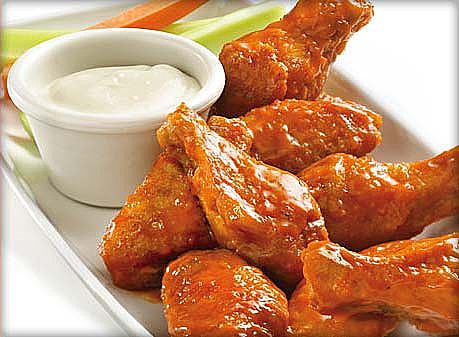 Now that your whistle has been whet with yesterday's posting on recipes to cook in celebration of tomorrow's NASCAR event at Phoenix International Raceway–the Subway Fresh Fit 500–here are a few more no-forks-required recipes to get your engines revved (this time, courtesy of Four Seasons Resort Scottsdale at Troon North):
Chicken Wings
8 Drumsticks
1 Onion, coarsely chopped
4 Cloves garlic
1 Stalk celery, cut into 1-inch pieces
2 Large carrots, cut into 1-inch pieces
2 T butter
Vegetable oil
Hot sauce, cayenne pepper
Celery sticks and carrot sticks to garnish
Bring a large pot of water containing the onion, garlic, celery and carrots to a boil. Place drumsticks in water; braise for 20-25 minutes or until chicken is cooked through. Remove drumsticks from water and pat dry. Heat pan of vegetable oil to 325 degrees. There should be enough oil to cover the drumsticks. Deep fry drumsticks in oil until crispy; about 6-8 minutes. Remove and place aside. In separate pan, bring hot sauce to a boil with butter; toss drumsticks in mixture and serve with carrot and celery sticks along with ranch dressing.
** For milder wings, mix your favorite barbecue sauce with the hot sauce.
Adobo Pulled Pork Tacos
2 ½ lb. Pork shoulder
½ C White wine vinegar
½ C Orange juice
2 splashes Tequila
¼ C Garlic
5 T Annatto
½ tsp. Cumin
1 T Black pepper
½ C Lemon juice
4 Limes
3 Oranges
3 T Kosher salt
1 T Allspice
Garnish:
1 dozen Flour tortillas
1 diced Red onion
½ bunch of chopped Cilantro
With the exception of the pork, place all of the ingredients into a blender and incorporate until it is a smooth mixture. Cut pork into large cubes. Place in a large Zip Lock bag. Add the adobo mixture from the blender into the Zip Lock bag. Seal tightly. Marinade for about 45 minutes. Pre-heat oven to 325 degrees. Place pork with the adobo mixture into a 4-inch pan. Cover with foil and bake for 3 hours and 25 minutes. Remove from oven and pull the pork away. It should come out with no resistance. Heat flour tortillas. Place a ½ cup of pork into each tortilla. Add garnish for extra flavor. Serves four.
Spicy Green Chile Avocado Salsa
¼ C Olive oil
8 oz. Chicken broth
4 Jalapenos (remove stems)
1 Yellow onion (large dice)
1 Zucchini (large dice)
3 Tomatillos (large dice)
2 Avocados
½ Bunch cilantro
1 tsp. Black pepper
1 tsp. Coriander
1 tsp. Cumin ground
Salt to taste
In a sauté pan, add olive oil, tomatillos, jalapenos, onion and zucchini, and sauté lightly. Remove from heat and cool completely. Add all of the ingredients in a blender and puree until smooth. Season with salt to taste. Serve with tortilla chips. Serves eight to ten.