Tucson's Miraval will unveil its first cookbook on May 1, Mindful Eating. The soon-to-be-released cookbook will give the home chef the tools they need to make smarter food choices with a better understanding of portion size, ingredients and cooking practices. Mindful Eating was written under the direction of Miraval's Executive Chef Chad Luethje and the resort's culinary, beverage, and nutrition teams and has 200 recipes that focus on simple techniques. Miraval was kind enough to share a few sneak peek recipes from Mindful Eating.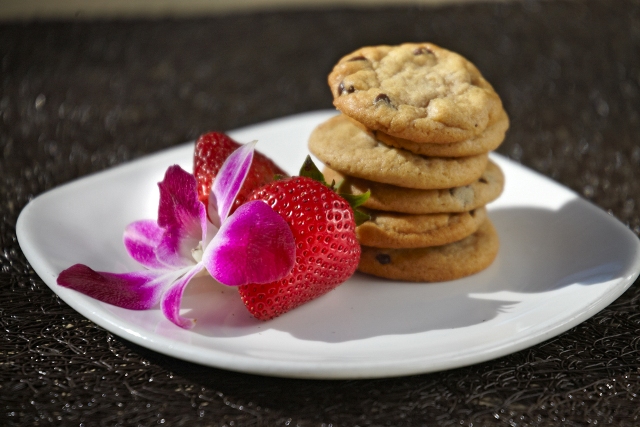 Mindful Chocolate Chip Cookies
Makes 30 cookies
2 tablespoons unsalted butter, softened
2 tablespoons mashed ripe banana
1 cup brown sugar
1 large egg
2 tablespoons Agave syrup (Source Guide), or honey
1 teaspoon pure vanilla extract
1 ½ cups all-purpose flour
1 teaspoon baking soda
¼ teaspoon kosher salt
¾ mini semi-sweet chocolate chips
Preheat the oven to 350 degrees F.
Combine the butter and banana in a bowl fitted with an electric mixer and cream together with the machine on medium-high, 1 to 2 minutes. Add the sugar and mix well for 2 minutes. Add the egg, agave syrup and vanilla extract and mix until well combined, 1 to 2 minutes.
Sift together the flour and baking soda into a small bowl and add the salt. With the machine on low speed, add the dry ingredients to the wet ingredients and mix just until the dough comes together. Stir in the chocolate chips and mix only until incorporated, being careful not to overmix.
Cover 2 large baking sheets with parchment paper or cover with Silpat non-stick cooking sheets. Scoop the dough 1 tablespoon at a time, roll into a ball, and place on the baking sheet. Continue with the remaining dough, leaving about 2 inches between each cookie. Bake one sheet of cookies at a time until golden brown, 10 to 12 minutes.
Transfer the cookies with a spatula from the baking sheets to a wire rack to cool. Serve warm or at room temperature.
(The cookies can be kept in an airtight container for up to 3 days.)
Calories: 70, Total Fat: 2.5g, Carbohydrate: 13g, Dietary Fiber: 1g, Protein: 1g
Crimini Polenta Lasagna with Sun-dried Basil Tomatoes
Yield: 8 servings
4 cups Sun-dried Tomato Basil sauce, recipe follows
1 tablespoon olive oi
2 cloves fresh garlic, minced ½ cup water for mushrooms
½ cup porcini mushrooms, hydrate and chop
2 tablespoon brandy
1 quart water
½ tsp salt
1 pinch chili flakes
1tblsp fresh basil, chopped
1 cup polenta
1 cup egg whites
¾ cup nonfat cottage cheese
½ cup mozzarella cheese grated
¼ cup feta cheese, crumbled
3 tablespoon garlic minced
¼ pound tofu, drained and crumbled
¼ tsp black pepper
¼ tsp chili flakes
2 Tablespoon fresh basil, chopped
¼ pound lasagna noodles, fresh if possible
1 tsp olive oil
1 medium onion, julienned
1 red bell pepper, julienned
4 cups mushrooms, sliced ¼ "thick
½ carrot, julienned
1 medium zucchini julienned
2 cloves garlic, minced
¼ tsp black pepper
2 Tablespoon fresh basil, chopped
1 roasted eggplant yumbo
Method:
Preheat oven to 375 degrees
Step #1: Make the sun-dried tomato basil sauce as recipe indicates and set aside. Place the mushrooms in a bowl with brandy and water. Set aside for 30 minutes or until the mushrooms are soft. Drain and chop.
Step#2: In a sauté pan over medium high heat, sauté the porcinis in the oil with the garlic. As soon as the mushrooms are soft, take off heat. Place water in a sauce pan or stock pot and bring to a boil, adding the first 3 ingredients except polenta. When the water is at a boil add the polenta a little at a time stirring. Cook (1) minute, stir in the mushrooms, and remove from the heat. Lightly sprayed with vegetable or olive oil an oven proof dish or casserole and then evenly spread the hot polenta over the bottom of the casserole to cover. Cover the polenta with 3 ounces of the prepared tomato sauce and set aside to cool.
Step #3:  In a large bowl mix the next [7] ingredients together and set aside in the refrigerator until needed.
Step #4: In a sauté pan over medium high heat add the olive oil and the onion and bell pepper and sauté for [5-6] minutes, stirring. Fold in the mushrooms and sauté an additional [5] minutes, stirring add the carrots, zucchini, garlic, pepper and basil and cook for [2-3] minutes. Mix well and set aside off the heat.
Step #5: Spread the cheese/egg mixture evenly over the top of the polenta; evenly cover the cheese mix with the cooled sautéed veggies, slightly pressing. Top the veggies with the pasta noodles sealing the top. Spoon another [3] ounces of tomato sauce over the top of the noodles and spread evenly. Spray lightly with oil and cover with foil and place in the center of the hot oven and bake for approx (1) hour and (30) minutes.
Step#6: Pull the cooked lasagna from the oven and let rest [15] minutes prior to serving. Cut into [8] equal portions and serve with [2] ounces of the Tomato Basil sauce and [½] ounce Parmesan cheese and sprinkle over top along side your favorite side vegetable. I like to serve this dish my baked eggplant and cauliflower. Give this a try and enjoy, your friends and family will love you for it. Enjoy!
Sun-Dried Tomato Basil Sauce
Yields: 4 cups
1/2 teaspoon olive oil
1 onion, chopped
1 tablespoons fresh garlic chopped
½ cup white wine
8 Roma tomatoes chopped
4 cups vegetable stock or water
¼ cup sun-dried tomatoes (if packed in oil, drain very well, reserving oil for later use)
sea salt and freshly ground black pepper to taste
4 tablespoons basil chopped
Method:
Step #1: Heat a medium saucepot over medium-high heat with the oil and sauté the onion with the garlic until the onion is golden, [5] minutes. Add the wine and the tomatoes and simmer for [5] minutes. Add stock and simmer for an additional [15] minutes.
Step #2: Carefully ladle the tomato mixture in a blender or use a hand blender and process until smooth. Add the basil and sun-dried tomatoes, season with, salt and pepper and to taste.
Use or cool down and refrigerate. Store in an airtight container for up to 1 week in the refrigerator or freeze for about 1 month.
Per 1/2 cup:
Calories 40; Protein 1g; Total Fat 0g; Saturated Fat 0g; Carbohydrates 6g; Dietary Fiber 1g; Cholesterol 0mg; Sodium 470mg