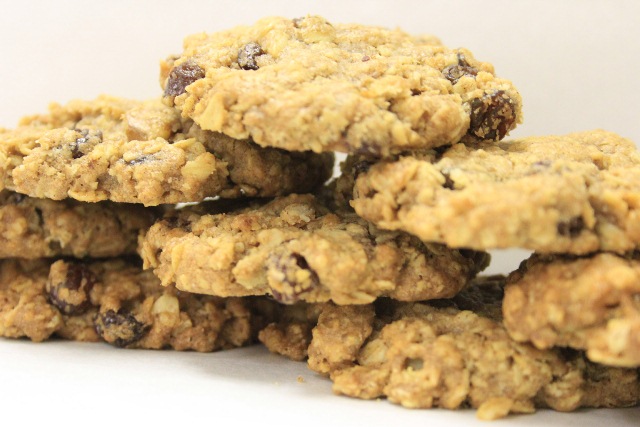 Happy National Oatmeal Cookie Day! Yup, April 30 is devoted to honoring the yummy, chewy, utterly delicious and perhaps raisin- and nut-laden oatmeal cookie. To honor this mouthwatering celebration, the owner of Tempe's Cookies from Home, Corey Meiteen, is giving AZFoothills.com readers his very own–and unique–oatmeal cookie recipe. Take a look and try for yourself today. (The southwest variety would also be a big hit for Mother's Day!)
Corey's Southwest Oatmeal Cookies
2 cups all-purpose flour
5/8 teaspoon baking powder
1 teaspoon baking soda
1/2 teaspoon salt
1/2 cup Butter
1/2 cup Margarine
1 cup packed brown sugar
1 cup white sugar
2 eggs
2 cups quick cooking oats
1 cup Milk Chocolate or butterscotch chips (or 1/2 and 1/2)
(Optional – 1/2 tsp of Chipotle Pepper, best served with the Milk Chocolate chips only. This ingredient is to taste.)
1. Preheat the oven to 350 degrees F (175 degrees C). Sift together flour, baking powder, baking soda, and salt; set aside.
2. In a medium bowl, cream butter, margarine, brown sugar, and white sugar until smooth. Beat in eggs one at atime.
3. Gradually stir in the sifted ingredients (add Chipotle pepper if desired) until well blended. Mix in oats and butterscotch chips. Drop from a teaspoon onto ungreased cookie sheets.
4. Bake for 10 to 12 minutes in preheated oven, or until edges are golden. Let set up on the cookie sheets for a few minutes before transferring to wire racks to cool completely.
Or simply pop onto www.cookiesfromhome.com to order a batch of Cookies from Home's amazing oatmeal cookies. Have you tried the prized bakery's chocolate chip cookie recipe yet?