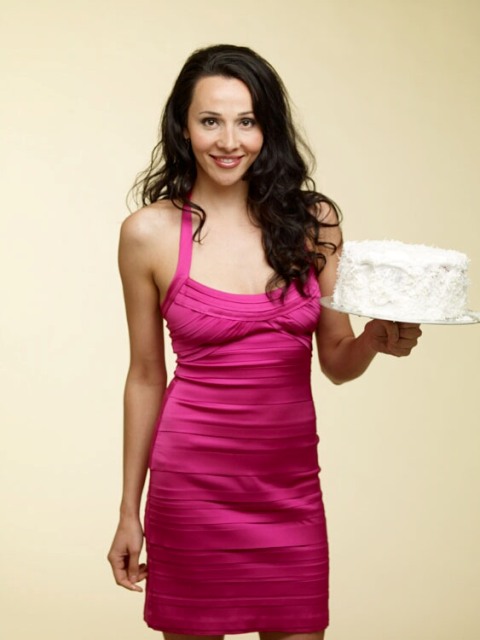 For me, baking is a stress-reducer. While I'm rolling out dough or icing cupcakes, creating delicious treats is all that is on my mind. Plus, it makes the entire house smell completely divine. However, being a baker doesn't exactly do my thighs any favors. However, Celebrity Chef Marisa Churchill (you might know her from "Top Chef" and "Food Network Challenge") has just unveiled a new cookbook, "Sweet & Skinny: 100 Recipes for Enjoying Life's Sweeter Side without Tipping the Scale," and she is giving AZFoothills.com a few tips on how to cut the calories when baking.
1). Cut down on butter – Butter has gotten a bad reputation for packing on the pounds and clogging your arteries, and while this can be true, I think it is more about moderation. In my recipes, I replace about half of the butter in cookies, biscuits and pie crusts with reduced fat cream cheese. Light cream cheese (also known as Neufachtel) has a similar texture to butter, reacts similarly in baking, but has a fraction of the fat and calories.
2). Utilize egg whites – When baking cakes, custards and cookies, replace some of the whole eggs with egg whites or Egg Beaters. Every egg yolk contains about 5 grams of fat and 213 mg. of cholesterol. By replacing some of the yolks with additional egg whites, you can cut down on the fat in many desserts. Both your hips and your heart will thank you.
3) Use more cocoa powder – Who doesn't love chocolate? This staple in most kitchens, and a sure hit for desserts any time of the year, can also tip the scales with the average slice of chocolate cake weighing in at a whopping 38 grams of fat per slice! Whether making chocolate frosting, chocolate cake, or hot chocolate, replace up to half of the melted chocolate with 1/4 good quality cocoa powder. For example, replace 1/2 cup chocolate chips with 1/4 cup chocolate chips and 1/8 cup cocoa powder. You will still have a chocolatey dessert, but a slimmer you.
4). Substitute a natural sweetener – Whether you can't have sugar for health reasons, or are simply trying to cut back on calories, using a natural sweetener can be a great alternative. For my Sweet & Sugar-free desserts I use Truvia natural sweetener, made from the Stevia plant. It is a zero-calorie sugar substitute, making it a great way to enjoy dessert and still feel virtuous. To bake sugar-free I do suggest you follow a recipe, as it is not a straight swap when replacing sugar. However, if you are looking to just cut back on the sugar, a good rule of thumb is to replace ¼ cup of sugar in a recipe with 1/8 cup Truvia.
5). Replace the oil – After so many uses: bake sales, birthday parties, and pot lucks, it's time to give your favorite cake recipe a 25,000 mile make over! Many popular cakes call for oil. The oil gives the cake a nice texture, moist crumb, and about 900 extra calories per ½ cup! Thankfully fat free, or reduced fat, plain Greek style yogurt does the same trick with only about 85 calories per ½ cup. I replace 2/3 of the oil in my cake recipes with reduced fat Greek style yogurt, making it easy to indulge in a slice of birthday cake while still feeling as carefree as I did in my youth.