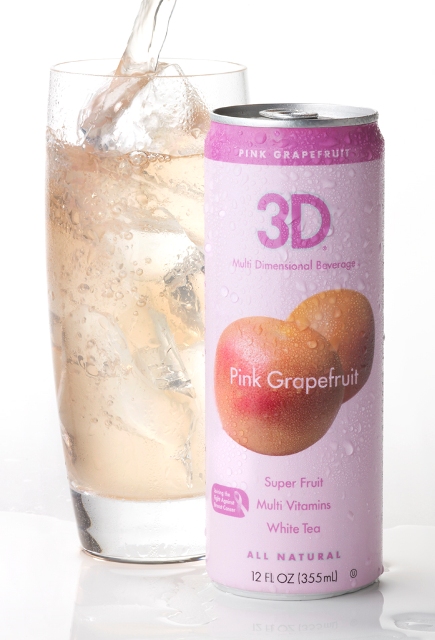 A new flavor of iced tea has joined the fight against breast cancer, both by raising money for awareness and research and by providing healthful benefits to its drinkers. Revolution Tea, a 10-year-old premium beverage company, has released its newest flavor of tea to its 3D line, 3D Pink Grapefruit, just in time for breast cancer awareness month (October). A portion of all the sales from 3D Pink Grapefruit tea, which bears the iconic pink ribbon emblem, will go to support breast cancer charities that are devoted to research and education. "My family has been affected personally by the disease, and my partner Larry DeAngelis and I knew we wanted to dedicate a product in support of this important cause," said David Watson, president of Revolution. "This is the first new flavor 3D has released since its initial launch." (Watson's now-wife, Christine, was diagnosed with breast cancer at the very young age of 32. Her cancer returned two years later, after aggressive surgery, 10 rounds of chemotherapy and radiation, but thankfully she has since been cancer-free for 10 years.)
3D is an all-natural beverage that combines the antioxidant power of super fruits, essential multi-vitamins and healthy white tea. Revolution released the four original flavors, 3D Pomegranate, 3D Blueberry, 3D Mango and 3D Green Apple in 2008. Pink grapefruit naturally contains a potent antioxidant called lycopene. Antioxidants such as lycopene have been shown to neutralize free radicals in the body, the cellular damage of which can lead to diseases like cancer, according to the National Cancer Institute. "Not only is the fight against breast cancer personally important to me and Revolution, we produce a product that delivers an important health benefit in the form of antioxidants," said Watson. "Our only hope is to continue to raise awareness of the disease and its prevention." Plus, 3D Pink Grapefruit tea contains only 60 calories per serving. 3D Pink Grapefruit will be sold alongside the original 3D flavors at fine retailers in Arizona, California and Texas as well as online at http://drink3d.com/. $5 for four 12-ounce cans of 3D Pink Grapefruit tea.
About 3D:
3D blends one dimension super fruits, one dimension essential vitamins and one dimension premium white tea for a 3-dimensional beverage for people with busy, multi-dimensional lives. Revolution has been transforming the beverage industry and the way we drink tea since 1998. With its premium full-leaf teas and distinguishable packaging, this award-winning company produces only the finest beverage experiences.