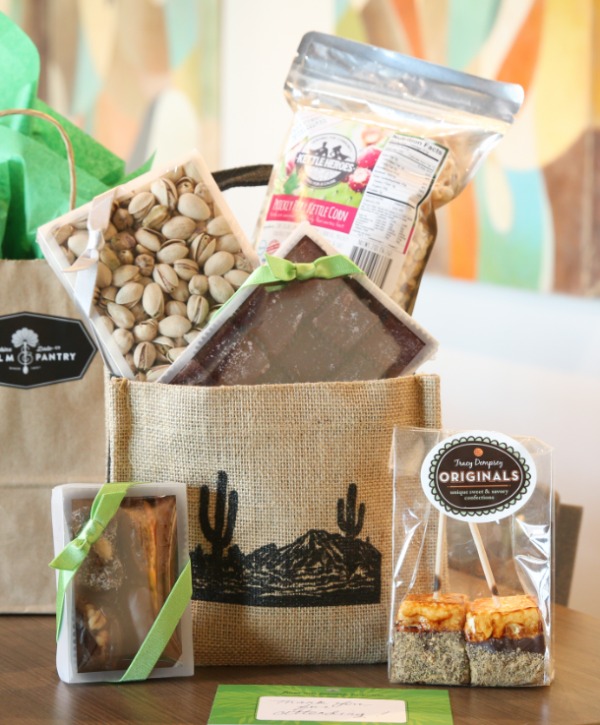 Support your favorite local businesses while also spoiling Mom this Mother's Day to these last-minute treats.
Sphinx Date Co. Palm and Pantry's "Saguaro Sweets and Treats" (pictured, $40) package includes a mini date assortment, Arizona pistachios, citrus and cactus candy, a bag of Kettle Heroes prickly pear kettle corn, and specialty marshmallows from Tracey Dempsey Originals. All wrapped up in a jute bag with desert scenery emblazoned on it, this gift is available to order directly online.
Raise a toast to Mom with a beautifully packaged gift set from LDV Winery featuring a bottle of rich and intense 2018 LDV Rosé of Grenache paired with scrumptious macarons from Woops for $5, plus tax. Pre-orders can be made by calling 480.664.4822 and curbside pickup is available from 10 a.m. to noon on Saturday, May 9, or via local delivery for an additional $5.
In addition to gorgeous bouquets, plants and even DIY terrarium kits, Cactus Flower Florists is offering gourmet wine baskets to make Mother's Day just as special (from afar). As the only flower shop in the Greater Phoenix area to sell alcohol, Cactus Flower places an emphasis on family-owned and -operated Arizona wineries and breweries in addition to offering award-winning labels from around the world. Choose from an assortment of plants like orchids, blooming plants, green plants, succulents and cactus gardens to extend the longevity of your gift or perhaps gourmet chocolates, balloons, candles and more. Contactless delivery is available from five Valley locations, curbside pickup at the Scottsdale store, and FaceTime with floral experts for a look inside the showroom by calling 480.705.7673. Plus, Cactus Flower is partnering with Banner Health Foundation to thank health care heroes. When placing an order with Cactus Flower Florists during the month of May, you will be given the option to donate $5 or $10 to these amazing workers. All contributions made will help health care heroes on the front lines at Banner Health and for every donation made, Cactus Flower will match the value!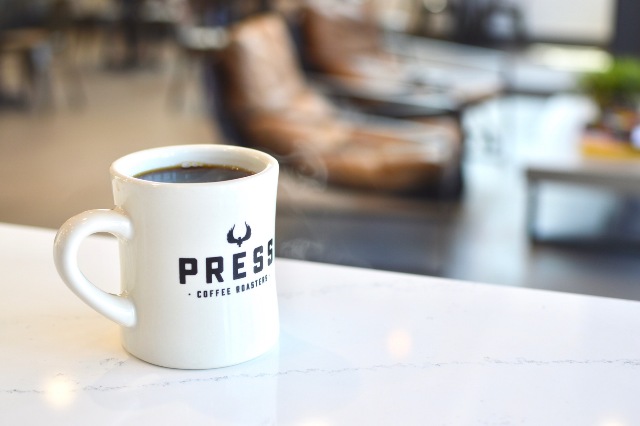 Locally owned and operated Press Coffee ensures Mama never runs out of her favorite beans with its subscription service (with free delivery). Guests can choose how frequently they get a delivery – weekly, twice a month or once a month. Then, choose the type of coffee they like and the type of grind. Pricing depends on volume, frequency, and type of coffee starting at $14 per month. Individual bags of coffee are also available.
Choose locally produced and crafted Arizona wine from Merkin Vineyards, including Puscifer Queen B, Sparkling Rose. This crisp, refreshing and delicious rose is served up in a cold can ($44 for a four-pack). The Chupacabra bubbles is a blend of Chardonnay, Malvasia and Sauvignon Blanc from Willcox that is perfect for celebrating ($22).
Garden Goddess Ferments, the Valley's only locally-owned fermented foods provider, is offering 10 percent off entire orders by using the code MOM at checkout through Monday, May 11. From Beet Kvass to several flavors of sauerkraut, all products are 100 percent vegan, organic and packed with natural probiotics.