Unable to find bacon that met his high standards for freshness and ingredients, Chef Tony Baker founded his own brand in 2011. Baker's Bacon began with a partnership between long time smoke master and bacon expert Steve Sacks at Prime Smoked Meats in Oakland, California.
Baker and Sacks worked together for over a year experimenting with cures until they settled on the recipe that is still in use today.
The goal was and is to make real bacon – Bacon The Way It's Supposed To Be!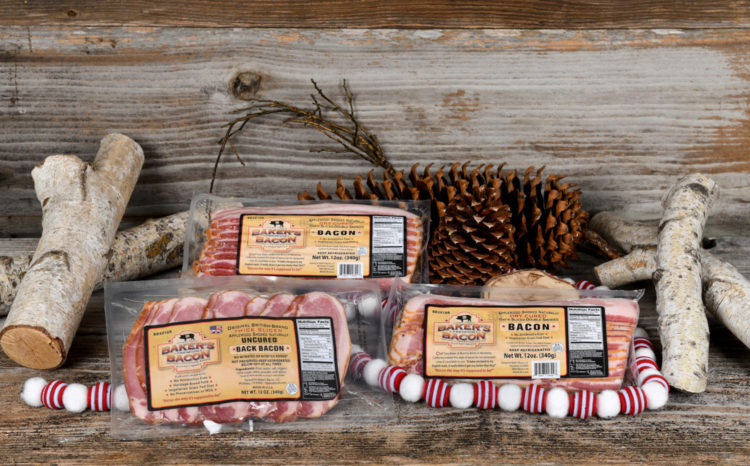 Baker's Bacon is made in two styles, offered in whole slab or sliced:
British-style uncured back bacon — this premium bacon is leaner than traditional American bacon, meatier and 100% natural.
Double-smoked bacon — made in the more traditional American style and dry-cured with a unique blend of spices, then smoked for twice as long with both applewood and maple wood chips, giving the pork a rich color and deep bacon flavor.
Available as: 
Subscription Boxes: frequency options are 1, 2, 3, 4, or 6 months and include eight packages of bacon (five packages of Thick-Sliced Double Smoked Bacon, two packages of Thick-Sliced Uncured Back Bacon, and a surprise cut that will change with each box) and a chef-created recipe. Each box is $95 and includes free shipping to California, Washington, Oregon, Nevada, Idaho, Utah, and Arizona only.

Gift Sets: for holidays, birthdays, anniversaries, or any occasion, the gift sets include three packages of bacon (two Thick Sliced Double Smoked Bacon and one Thick-Sliced Uncured Back Bacon), a Baker's Bacon lanyard, and a customizable gift message with clever bacon greetings. Each gift set is $42 plus shipping and is available to ship anywhere in the U.S.
Baker's Bacon uses sensible and sustainable product packaging, no styrofoam, with recyclable cardboard boxes and reusable gel cold packs.
For more information about Baker's Bacon, visit: https://bakersbacon.com/