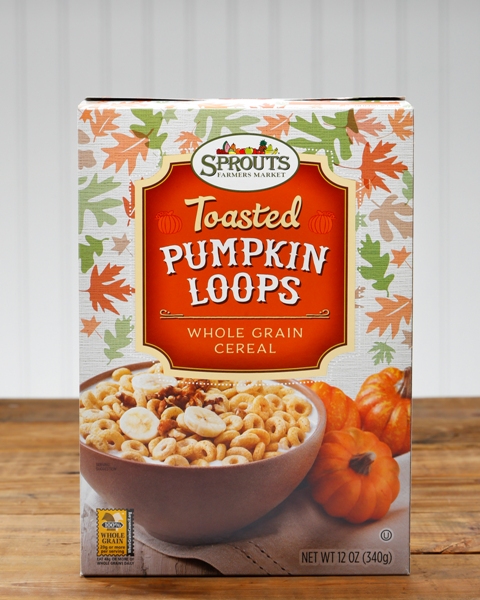 Happy fall, everyone! To celebrate, it's time to bust out our favorite gourd: the pumpkin. To welcome in the new season, we had a sneak peek of Sprouts delicious seasonal pumpkin eats and treats. Here are a few of our favorites:
Whole Grain Pumpkin Loops Cereal, $3.49. This is an annual favorite from Sprouts pumpkin arsenal. We adore that these loops aren't too sugary or dyed bright hues. These are simply tasty, and we love them in a bowl with almond milk and sliced bananas or topping a Greek yogurt parfait.
Cranberry Pumpkin Crisps, $3.99. These delicate crisps are one of the few more savory Sprouts pumpkin selections. Thin and crunchy with a hint of sweetness from the dried cranberries, we can imagine these babies paired with melty brie during a holiday spread. (With those little red specks, they are pretty on the plate, too.)
Pumpkin Dipper Cookies, $2.99. These frosting-coated cookies are a big hit with the kiddos. The spiced, elongated cookies aren't overly sweet or overly hard–they have just enough give and just enough frosting for little eaters. And they are the perfect shape for dunking in coffee or hot cocoa.
Pumpkin Pizzelle Cookies, $3.99. Another tasty cookie that begs to be enjoyed alongside a cup of coffee. The delicate pumpkin pizzelles are airy and crispy with a super-subtle pumpkin flavor. Crumble them on top of a scoop of pumpkin gelato for delicious fall dessert.
Pumpkin Seed Tortilla Chips (Gluten Free), $2.99. These are a tasty alternative to your usual salsa-accompanying chip. The hearty, seed-filled chips can be used in replacement of regular tortilla chips when serving guac or salsa, which pair perfectly thanks to their hint of lime.