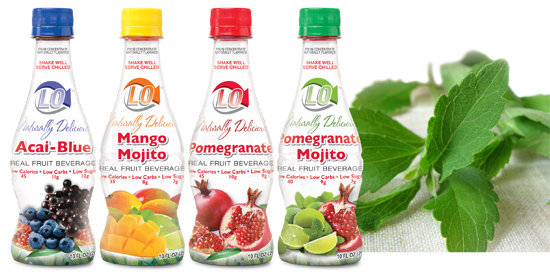 We are reminded all the time that though fruit juices may seem like a health drink, they are actually chock-full of calories and sugar (and, sometimes, rarely any actual fruit juice). Lo Real Fruit Beverage was designed as a healthful option for those who wanted a tasty juice without all that sugar. Lo, in fact, has a very low glycemic index (in addition to being low in carbs) so that diabetics, for instance, can still enjoy it.
What is a glycemic index? It is a number that is determined by how quickly blood glucose levels rise based on carb consumption. The higher the number, the faster that consumed item raises blood sugar. Drinks like Gatorade have a high index while many soft drinks and even orange juice have numbers in the middle range. However, all four Lo flavors (Acai-Blue, Mango Mojito, Pomegranate and Pomegranate Mojito) boast very low numbers. Plus, each flavor is made with between 70 and 84 percent organic ingredients.
Best of all, the drinks are flavorful and refreshing. Like most pomegranate juices, the Lo variety is tart yet delicious while the Pomegranate Mojito flavor, with the addition of lime and mint, features the tartness of the Pomegranate juice but with a sweet and super-refreshing kick. Likewise, the Mango Mojito was highly refreshing (great to drink poolside) and clocks in at only 35 calories for the bottle. Bursting with superfruits, the Acai-Blue features organic blueberry juice alongside acai and pomegranate for a sweet yet pucker-worthy pow of flavor.
$12 for a four-pack of Lo Real Fruit Beverage. Available at www.lofruitbeverage.com.