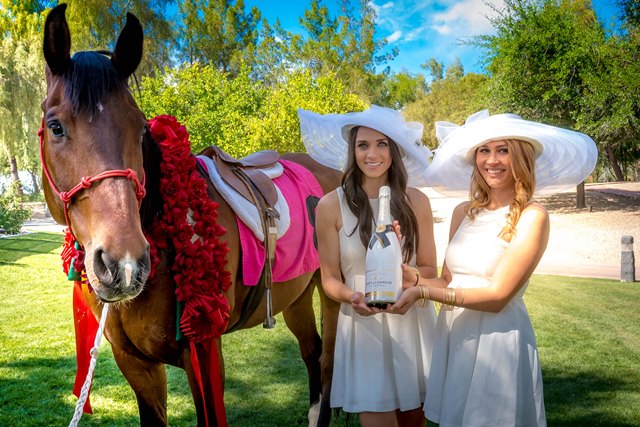 Looking for the ultimate spot to celebrate "the most exciting two minutes in sports"? Check out these happenin' Valley parties for mint juleps, priceless photo ops and over-the-top hats galore.
AZ Foothills Staff Pick: "The most exciting two minutes in sports" will be celebrated in grand Southern style at Michael Mina's Bourbon Steak at the Fairmont Scottsdale Princess with a Kentucky Derby brunch and lawn party, 1 to 4:30 p.m. on Saturday, May 5 (pictured). Each guest will enjoy the traditions of the Derby atmosphere, including frosty mint juleps, Bulleit Bourbon tastings and activities on the "Winner's Circle" lawn–in addition to a decadent brunch menu is filled with Southern flair (hello deviled eggs, fried chicken biscuits and sausages sliders). Derby fans cheer on their favorites during the world's premier horse-racing event on plasma screens indoors and out, with complete Derby coverage from 1 to 4 p.m. and the estimated race time at 3:34 p.m. Women are encouraged to complete their Derby look with their most stylish hats, while gents might sport seersucker, both with a chance to win prizes from an esteemed panel of judges. (Prizes include dinner for two in Bourbon Steak, a day at Well & Being Spa and a weekend getaway to the Fairmont Scottsdale Princess.) Bourbon Steak's Kentucky Derby Brunch is $109 per person, plus tax and service charge. Reservations are suggested by calling 480.585.2694. Tickets may also be purchased at the door.
Make your way to Mowry & Cotton at The Phoenician for a derby day porch party from 1 to 4 p.m., complete with cocktails, giveaways and head-turning hats. Guests at this spring affair can enjoy Woodford Reserve mint juleps and endless Instagrammable photo opps while taking part in a "Best Hat" or a "Gentleman's Best Southern Style Attire" contest (up for grabs is a two-night stay at the resort, among other prizes offered throughout the event). Tickets are $95 per person plus tax and gratuity (included in the price are two mint juleps, a keepsake copper cup and all-you-can-eat Southern-inspired food). A portion of all proceeds raised will go toward After the Homestretch-Arizona. For tickets, call 480.423.2530 or e-mail 00103RestaurantReservations@luxurycollection.com.
On Saturday, May 5, the Irish pub and off-track betting destination Padre Murphy's in Glendale will be hosting its annual Derby Day soiree complete with breakfast from 8:30 to 11:30 a.m., Derby Day drink specials (including mint juleps peach mimosas), a Derby Day hat contest (with prizes up for grabs), off-track betting and a live telecast of the 144th Kentucky Derby on its 90-plus TV's.
Southern Rail will celebrate "the most exciting two minutes in sports" on Saturday, May 5, from 1 to 5 p.m. Sip on mint juleps while you cheer on your favorite horse and enjoy a special Derby Day menu crafted by Chef Beckett (in addition to regular lunch and dinner menu). Guests are inspired to wear their best Derby-inspired attire. Prizes will be awarded for the best men's and women's derby hats, as well as best-dressed overall.
The grand opening of Founder's Brewing Co. temporary taproom at Desoto Central Market will kick off on Saturday, May 5, with Desoto's Kentucky de Mayo Party featuring a special tapping of the Kentucky Bourbon Stout (KBS). The Michigan-based brewery will also feature 12 beers on tap, including All Day IPA, Solid Gold, Sumatra Mountain Brown and more. Additionally, Founder's Brewing Co. will host a special tapping every Friday that includes the highly praised KBS, Dankwood, Backwoods Bastard, Green Zebra and more. The temporary taproom will be at Desoto for three months.
Home to the only Off-Track-Betting (OTB) window in downtown Scottsdale, the Bevvy in Old Town hosts a Kentucky Derby watch party on Saturday, May 5, from 8 a.m. to 2 a.m. Dig up your biggest Derby hat and don your finest Southern attire, as the Bevvy will be hosting Derby-themed contests for "Best Hat," "Best Dressed" and more, with winners receiving amazing prizes. The Bevvy will also be mixing up special Kentucky Derby cocktails for the day featuring Woodford Reserve bourbon. These reserve cocktails are specials for the Derby and include the official drink of the Derby, the classic mint julep, plus custom-made cocktails featuring Bulleit Bourbon. Plus, the Bevvy will be serving up its signature menu of gastropub favorites for the Derby. And because it's also Cinco de Mayo, look for specially priced cervezas, including Dos Equis, Corona and more. Most important, Bevvy patrons can legally place wagers on all of the day's horse racing action. As the only authorized Arizona Department of Racing OTB location in Old Town Scottsdale, Bevvy is the place to be for the entire 2018 horse-racing season, including the Preakness Stakes (May 19) and the Belmont Stakes (June 9). For VIP reservations, contact 602.777.1757.
From 1 to 5 p.m. on May 5, head to Rhythm + Wine in Scottsdale for a day of Southern fare and mint juleps. There will be drink specials on Kentucky mules, mint juleps, Chateau de Compuget Rose and Korbel Rose Brut Champagne, as well as Southern bites like deviled eggs, hot brown sliders, bourbon-glazed cocktail meatballs, pecan pie and more. Revelers will also enjoy awards for best dressed and best hat, raffle drawings, Orangewood Wine samples from 1 to 3 p.m., Woodford Reserve samples from 3:30 to 4:30 p.m. and much more. To make reservations, call 480.478.6999.
To ensure you don't miss out on the excitement this year, head to Dave and Buster's Tempe Marketplace on Saturday, May 5 for the ultimate Kentucky Derby viewing party. Wear your big Derby hat into Dave & Buster's and you will receive unlimited video game play for the whole day.
Celebrate the Kentucky Derby with delish $13 spiced mint juleps all day at Old Town's Famous 48.