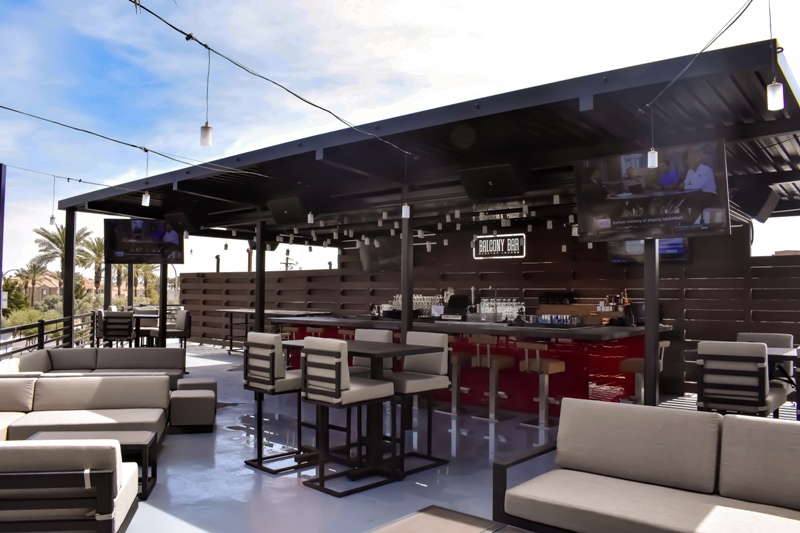 Foodie news roundup for the week of April 8.
Bobby Q Great Steaks & Real BBQ's Biltmore location debuts weekend brunch Saturday, April 13, and Sunday, April 14. Eats include avocado toast with cilantro-chimichurri, Brussel sprouts and cauliflower mash with eggs; an acai bowl featuring fresh strawberries, blueberries and blackberries; Chilaquiles; the restaurant's famed barbecue; hand-crafted cocktails and much more.
The highly anticipated rooftop lounge at Old Town's Social Tap Eatery is now open. The Balcony (pictured) is designed to be a total departure from the Social Tap atmosphere on the first floor, offering a laidback evening setting. A balance to the fun-loving Social Tap Eatery, the rooftop is a more reserved rooftop wine and cocktail lounge with beautiful views, plush lounge chairs, its own bar, DJ booth and fireplace. PS: It's open for private bookings and parties. 
Savor on Central returns to CityScape Phoenix April 17, 6 to 8:30 p.m. In partnership with Cloth & Flame, the unique desert-inspired dining experience will showcase the best of what CityScape restaurants have to offer featuring a chef-driven, multi-course dinner served family-style as a picture-perfect 152-ft.-long table adorned with flora, succulents and twinkle lights. Chefs from Chico Malo, Clever Koi and other Valley favorites will be dishing up the courses. Tickets are $160 plus tax and tip and include a welcome cocktail, a multi-course dinner and wine served throughout the event.

In celebration of Earth Month, True Food Kitchen is inviting guests to "Cobb for a Cause" in support of the Environmental Working Group (EWG), the nonprofit organization that empowers people to live healthier lives in a healthier environment. Now through April 30, True Food Kitchen will donate $1 to the EWG for every Good Earth Kale Cobb salad sold.
Gadzooks Enchiladas & Soup opens the its popular fast-casual Mexican restaurant on Monday, April 15, at 505 W. University Drive in Tempe at 11 a.m. The new restaurant is housed inside a standalone, stylishly remodeled space at the intersection of University Drive and Wilson Street, just west of Mill Avenue and ASU's Tempe campus. Fans can line up early on opening day, and 10 people in line will win free enchiladas for a year. (Contest rules: Everyone in line before 11 a.m. will receive a number, and at 11 a.m., 10 numbers will be selected at random. Max of four enchiladas per month between April 15, 2019 and April 14, 2020.)
Tax Day Dining Deals:
On Monday, April 15, Grimaldi's is slicing into Tax Day with a deal for $10.40 16-in. traditional cheese pizza. (This deal is valid at the restaurants only, not available through third-party delivery.) NPX: A Neighborhood Joint will offer happy hour pricing all day long on Tax Day. All dinners and sandwiches on the menu will be priced at $10.40 and there will also be an Income Tax Martini priced at $5. Spinelli's Pizzeria in Tempe will be giving away a one free fried Oreo dessert with any purchase on Tax Day. Just be sure to say this secret code to your sever: "Tax man." Serrano's Mexican Restaurants is offering a taco, rice and beans for $4.15 on Tax Day. You must tell the waiter "Tax Day" to get the special. Sauce Pizza and Wine will offer glasses of wine and beer for just $4.15 ($7 and under). Arcadia Tavern is will be offering a signature burger or pizza for $10.40 on Tax Day. Fired Pie is offering deals all day long with any one-topping pizza for just $4.15 with purchase of a beverage. (This deal is valid at the restaurant only, not available through third-party delivery.)