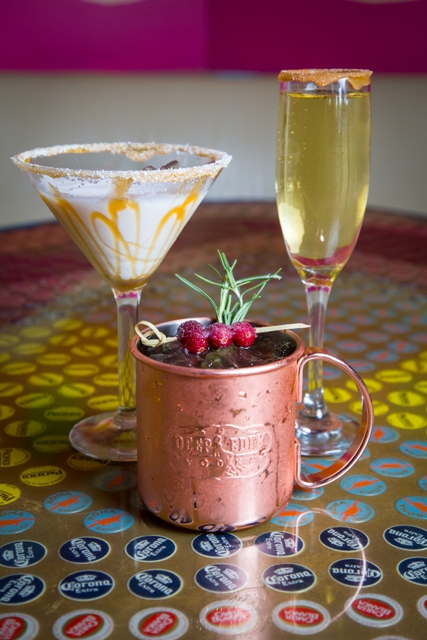 Foodie news roundup for the week of Dec. 10.
The Original Breakfast House has launched a lineup of seasonal, cold-weather dishes to warm us up, available through Jan. 1. Specials include reindeer sausage and gouda scramble, chicken mole omelet, crab cake benedict and tres leches pancakes.
Galeto Brazilian Steakhouse is now open in Chandler, highlighting the bold and authentic flavors of Brazil. The Galeto experience encompasses both the Brazilian Churrasco, in which the Gauchos parade 14 rotisserie meats (including beef, lamb, pork, chicken and sausage) and carve them tableside, and the Gourmet Bar featuring a wide array of more than 54 signature dishes and artisan appetizers.
J&G Steakhouse at The Phoenician is celebrating its 10th anniversary with five straight days of spectacular $10 food and wine specials. Offered nightly from Sunday, Dec. 16, through Thursday, Dec. 20, from 5 to 10 p.m., diners are invited enjoy a choice of nine chef-crafted entrées, including 10-oz. Prime Six-Peppercorn NY Strip Steak and Roasted Red Snapper, all for $10 (plus tax and tip) per entrée. There are also eight premium wines by the glass for $10 as well, including Veuve Clicquot's Brut Reserve, Duckhorn Vineyard's Merlot and Jordan Winery's Cabernet Sauvignon. (Click here for J&G's 10th anniversary menu.)
Flix Brewhouse opens its Chandler location on Dec. 19, offering nearly two dozen new, original cocktails to complement the brewery's award-winning lineup of craft beers. The brewery will also feature 20 guest taps, hosting a selection of the best beers from the East Valley and Phoenix area, plus up to a dozen Flix-made mainstays and fresh seasonal offerings. On the menu, movie-goers can enjoy handmade pizzas from scratch (including cultivated yeast from Flix's original location in Texas), burgers and other handheld options, along with a bevy of desserts and quintessential movie-watching snacks.
Celebrate the holidays with Mexican-inspired flavors from Sandbar Mexican Grill in Chandler and Desert Ridge. Festive dishes include turkey tacos, holiday tamales and smoked salmon taquitos while the seasonal cocktail collection (pictured) includes a cranberry-infused Merry Mule, salted caramel martini, caramel apple mimosa and much more.
Voila French Bistro is hosting a special wine-paired, three-course dinner to celebrate the season on Sunday, Dec. 16, from 5 to 7 p.m. The festive dinner includes traditional French dishes that Chef Jean-Christophe Gros is looking forward to sharing with his guests, including a La Bûche de Noël for dessert. Reservations are required; the dinner is $69 per person.
On Tuesday, Dec. 18, Taco Guild will host a day-long celebration of the 125th anniversary of the building that Taco Guild is located. To honor this milestone, Taco Guild is rolling out the red carpet; events of the day include custom shot glasses, T-shirts, 125 free app cards and one winner of a $125 gift card. Plus, there will be a special drink menu available with proceeds from all drinks purchased donated to the Arizona Preservation Foundation, and Taco Guild will also feature a special in-house menu that day.
Throughout the month of December, Ahipoki will donate $3 from every Kalua Pork bowl sold to the Arizona Coyotes Foundation. The Arizona Coyotes Foundation's mission is to enhance the quality of life throughout Arizona communities by supporting non-profit organizations that promote healthcare, education and cultural arts programs for children and service men and women.
M Culinary Concepts will hire 400 servers, buffet attendants and bartenders for seasonal employment during the Waste Management Phoenix Open, Jan. 29 through Feb. 3, and hosts a job fair Saturday, Dec. 15, from 9 a.m. to 1 p.m. in Phoenix at 20634 N. 28th St. Building 2, Ste. 130. Bring two forms of ID and be prepared for an on-the-spot interview. Apply at MCULINARY.COM.
On Friday, Dec. 14, from 6 to 9 p.m., Carlson Creek Vineyard will be opening their third tasting room in Cottonwood. The grand opening is open to the public and will include a ribbon cutting, complimentary tastings of select wines from the Carlson Creek portfolio, live music and a meet-and-greet with winemakers John Carlson and Robert Carlson.