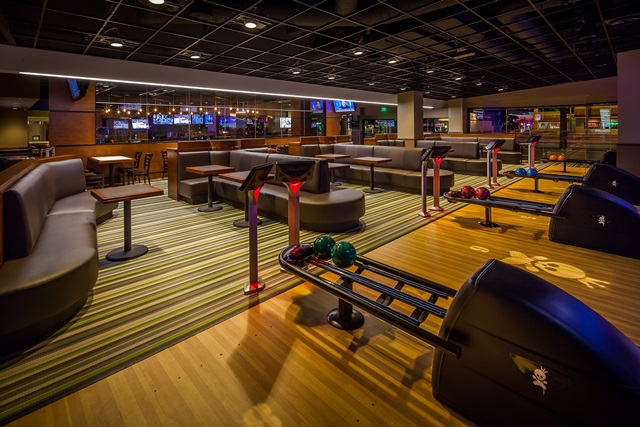 Foodie news roundup for the week of May 15.
Today marks the grand opening of Tavern+Bowl at Westgate Entertainment District. Located adjacent to Yard House, the 18,243-sq.-ft. restaurant and bowling experience is recognized for redefining the traditional bowling experience for today's lifestyle with a variety of features including 12 bowling lanes (pictured), a full restaurants, an large outdoor patios, an on-site microbrewery and much more. Stop by from 7 p.m. until close to enjoy a live DJ and food and drink specials. The party will continue through the weekend with a number of special events open to the public.
St. Jude Children's Research Hospital and RA Sushi plan to make the upcoming annual Nicky's Week fundraiser in Phoenix the biggest yet. From May 22 through 28, RA will introduce a special menu exclusively designed to raise funds for research to help cure childhood cancers and other life-threatening illnesses–and 100 percent of the menu proceeds go to St. Jude. RA hopes to surpass $2 million in overall contributions over the past 13 years.
Liberty Station is hosting a beer dinner with Helio Basic Brewing Co. on May 22. Guests can enjoy an eight-course dinner paired with a selection of beers for $65 per person. The dinner starts at 6:30 p.m. Click here to reserve your spot.
SHAKE SHACK: RECIPES & STORIES, the first-ever cookbook from restaurateur Danny Meyer's beloved Shake Shake, is now for sale. The book delivers 70 recipes and 200 fun photos, and also features clever infographics, Shack facts, trivia, and limited edition burger recipes from some of the country's favorite chefs.
Portillo's has announced a social media sweepstakes, with the winner being awarded free Portillo's for a year. To honor National Italian Beef Month, the brand invites customers to post a photo of their Portillo's experience to Twitter or Instagram, tagging @portilloshotdogs and using the hashtag #MeatUpSweeps. Guests that post from now through May 31 will be entered for a chance to win each of the following prizes: Portillo's-branded swag, catering for up to 16 people and Portillo's food for a year. Official rules can be found online at http://bit.ly/2pdhezj.
Downtown Scottsdale's Social Tap and Helio Basin Brewing, Co. have teamed up for Social Tap's first craft beer tasting series. On Wednesday, May 24, from 6 to 8 p.m., guests will be able to experience the first specialty brew from Helio, the "Hoppy Amber," paired with Executive Chef Keon Salehizadeh's paired Social Tap menu recommendations including the "Cali-Mari" with sweet chili sauce, the "Brussels and Bacon" with balsamic reduction and chipotle aioli and the signature "Beef and Cheddar Burger." Dustin Hazer and Mike Conley of Helio, will be available the evening of May 24 for a meet and greet and beer fans can expect a different style of beer from Helio Basin Brewing Company every Wednesday evening until June 21. Weekly trivia to follow at Social Tap.
From Thursday, May 25, through Sunday, May 28, Fired Pie wants to celebrate all comic book fans as they swarm through downtown Phoenix for Comicon. At their downtown location only, Fired Pie is offering 20 percent off for those who are either in costume or show their Comicon ticket.
S&V Urban Italian in Scottsdale celebrates its sixth anniversary on Saturday, May 20, and Sunday, May 21, by offering happy hour all day long. The restaurant will offer a special menu featuring some of their guests favorite dishes from over the years.
Join LDV Winery on Sunday, May 21, for a wine and cheese-themed wine-appreciation gathering from 5 to 6:30 p.m.. The event is part of a monthly series of fun, interactive get-togethers to discuss "All About Wine." Registration includes expert-led discussions, little bites and wine, and take-away materials. To reserve your seat, call the LDV Wine Gallery at 480.664.4822. Cost is $35 per person or $65 per couple (includes wine tasting, nibbles and materials). Payment is required in advance.
Gertrude's at Desert Botanical Garden, along with Grand Canyon Brewing and Ballast Point Brewing, are hosting a four-course Beer Beets  (and Beats) dinner with live originally produced Rastafarian music by Jared Gabriel on May 21 at 6:30 p.m. The dinner is $40 plus tax and tip per person. The dinner requires a credit card to reserve space. Call 480.719.8600 for reservations. Seating will be on the patio.
For more fab foodie news, become a fan on Facebook and a follower on Twitter @AZFoothillsFood and Instagram @AZFoothills.