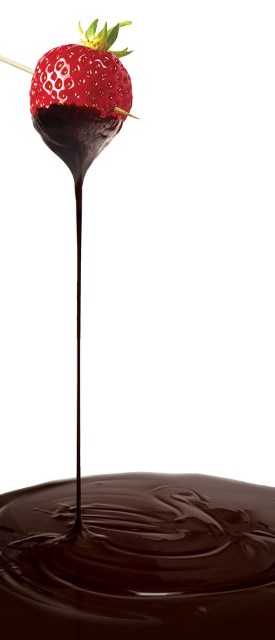 Belgian chocolate. The words sound as creamy and delectable as the product itself, and at Chocolade van Brugge, there are more ways to enjoy the treat than ever before. The chocolate shop is tucked away in a beautiful, modern structure in the heart of Old Town Scottsdale.
Owners and couple Frederiek and Christine Verbeke opened their doors in November 2013, after successful careers in the corporate world. Frederiek comes from five generations of chocolate makers in his hometown of Bruges, and said the transition into owning the shop was extremely easy. With both a familial background in the dessert and marketing experience from their previous positions, in less than a year the Verbekes have turned Chocolade van Brugge into a thriving shop for Valley residents to enjoy.
To start the summer off with a bang, the owners are introducing the concept of "chocolate-dipping parties" to their repertoire, which have been extremely popular in Europe. Frederiek states that they typically offer the traditional dark, milk, and white chocolate dipping flavors for parties, but are always open to special requests and combinations. Guests pick from more than 100 dipping snacks to include traditional choices like strawberries, pretzels, and Belgian waffles (made fresh in-house), or unique options such as pepper jack cheese and salami. The parties can be scheduled for 60 to 90 minutes, are $20 a person, and require reservations so that the owners can tailor the party everyone's specifications.
The shop is decked out in beautiful contrasting colors of orange, black and white, with a giant truffle case and coffee maker to the left and high-top tables laden with pots of warm chocolate on the right. During the tasting, the gooey white chocolate was fabulous on fresh apple slices and pretzels—traditional chocolate imported straight from Belgium, of course, with an authentic taste that wasn't overly sweet. The various cheeses and meats tasted surprisingly wonderful in the chocolate, with a union of salty, sweet and spicy not found in other choices.
When not enjoying warm chocolate for dipping, guests can choose from Chocolade Van Brugge's flavored truffles and imported Belgian coffee, as well as traditional "melting chocolate" for a hot or iced drink. Top-selling truffles include dark chocolate lavender, "Speculoos" in milk—a take on Trader Joe's delicious spiced cookie butter—and white chocolate butter caramel. So whether you want a sensuous date night for two, a fun bridal shower, or a delicious kid's party without the mess, Chocolade van Brugge's dipping parties are the perfect choice for summer days or nights here in the Valley. Open from 10 a.m. to 7 p.m. daily (with parties able to be scheduled later). www.chocoladevanbrugge.com. –Ashley Carlson