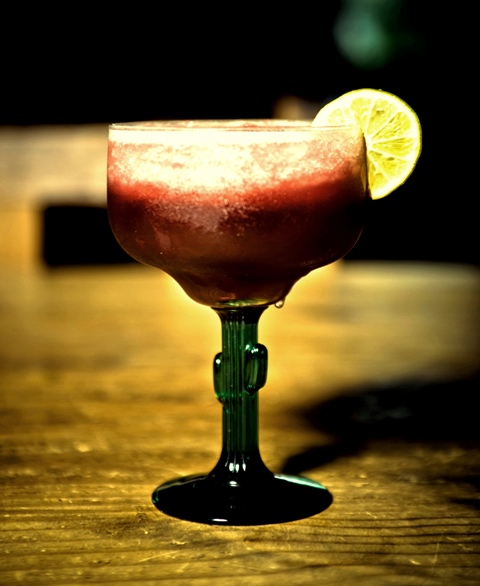 What's more refreshing while basking in the hot summer sun than an ice-cold margarita? How about an ice-cold slice of watermelon? Better yet, perhaps you want the best of both worlds with a watermelon margarita? One of our favorite Mexican restaurants in Scottsdale, Los Sombreros, is making the Valley a cool place to be this summer with its refreshing seasonal specials, including a $9.95 Margarita Flight and two special menu items during the restaurant's Watermelon Weekends.
First off, all summer long, Los Sombreros is offering a special $9.95 Margarita Flight. Each flight includes three fruity summer flavors: passion fruit margarita made with Damiana Liqueur; lime margarita made with Patron Silver and pomegranate margarita made with Pama Pomegranate Liqueur. Each margarita threesome is served with salt, on the rocks.
Another way to cool off is with Los Sombreros' Watermelon Weekends (offered Fridays and Saturdays). Throughout the month of July (which is National Watermelon Month. Who knew?), Los Sombreros is offering two specially crafted, thirst-quenching watermelon dishes for its guests to enjoy at a special weekend price. To wet your whistle, the refreshing watermelon margarita with a Midori bloat ($8.95), made from fresh frozen watermelon, lime juice, triple sec, sweet and sour mix, and Azul Blanco tequila. The Midori floater is a sweet, green melon liqueur that compliments the fruity margarita. For a super healthful and filling option, try the Sandia Salad ($4.95) prepared with fresh watermelon, cucumber, red bell pepper, jicama, chopped cilantro and panela cheese, and drizzled with a honey-lime dressing. 2534 North Scottsdale Road, Scottsdale, 480.994.1799. http://www.lossombreros.com/.