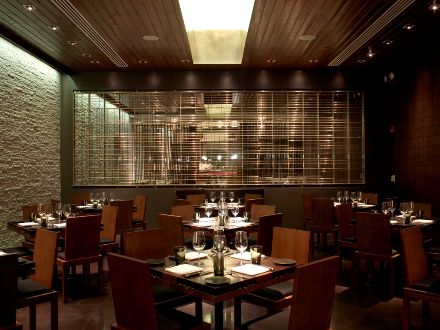 For me, it can take a while to choose what to order when I'm at a restaurant. Everything always tends to sound good! Perfect for me–and any other indecisive diner–Michael Mina's Bourbon Steak at Fairmont Scottsdale is offering a new prix fix summer menu.
The three-course menu features a starter, main dish and dessert of your choice. To start, guests choose from Beef Carpaccio with hearts of romaine, horseradish and truffle crème fraiche; summer lettuces with Braeburn apples, Point Reyes blue cheese and bourbon pecans, or the rice-crusted calamari with pepperoncini, basil and preserved lemon aioli. For the main course, diners can select poached wild salmon with saffron tomato broth, fregola and salsa verde, prime beef short ribs with horseradish purée and Worcestershire jus or skirt steak with soy-glazed shiitake mushrooms and shallot potato cake. Finishing off the evening, Pastry Chef Veronica Arroyo offers two summer-friendly dessert choices: passion fruit panna cotta with coconut sorbet and lemongrass consommé, or the Summer Parfait, a blend frozen Greek yogurt topped with fresh white peaches and topped with homemade honey granola.
The best part of all is that the three-course menu is only $39, plus $22 for wine pairings. The menu is available through Labor Day. 7575 E. Princess Dr, Scottsdale. 480.513.6002, www.bourbonsteakscottsdale.com.