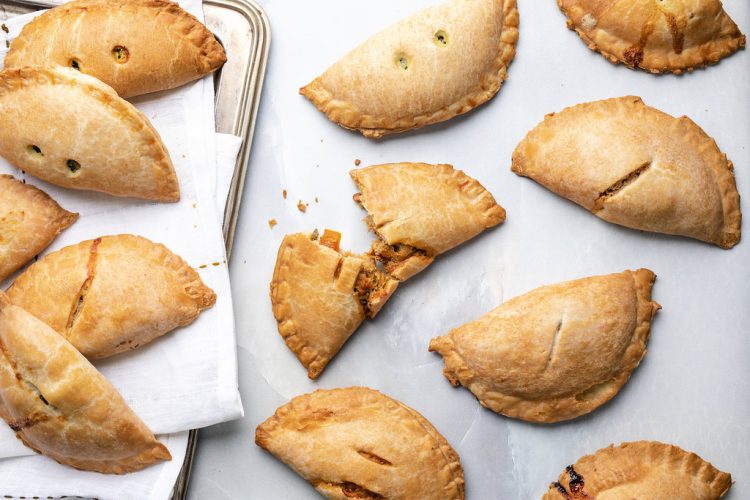 To celebrate every mathematician's favorite holiday–Pi Day (March 14)–these Valley dining destinations are slicing up some yummy deals and specials.
AZ Food Crafters offers all signature hand pies (pictured) for just $3.14 each all day long.
Bashas' Supermarkets is dividing its delicious pies in half to offer the half-size, 8-in. desserts for just $3.14. The specially priced half pies will be available in flavors like apple, apple crumb, peach, cherry, pumpkin and blueberry from Wednesday, March 13, through Tuesday, March 19.
O.H.S.O. Brewery has brewed 13 pie-inspired beers to pair with 13 home-made pies from The Pie Snob for the special day. Tappings take place at 11 a.m. at all O.H.S.O. Brewery + Distillery locations on March 14, while supplies last. Pie beers include Brut IPA Lemon Meringue,  French Silk BBA Stout, Strawberry Rhubarb Blonde Ale, Amber Apple Chocolate Pecan Stout, Shoofly Baltic Porter, Pecan Brown Ale, Boston Creme Stout, Cherry Pie Light Lager, Oreo Cookie Milk Stout, Key Lime Pilsner, Banana Creme Hefeweizen and Cherpumple Amber.
From 2 p.m. to close, at all three Fired Pie locations, any one-topping pizza is just $3.14 with purchase of a drink. This deal is valid for one per person, not valid on third-party delivery services.
Sauce Pizza and Wine is celebrating Pi Day by offering cheese pizzas for just $3.14. To receive this deal, guests must mention "Pi Day" when ordering. This offer is available at all Sauce locations, for dine-in only and limited to one per guest per visit.
Mesa's Cider Corps is offering all of its pints for only $3.14.
Villa Italian Kitchen will be celebrating by offering full-size Neapolitan cheese pizzas to guests for $3.14. To take advantage of this offer, Pi fanatics can head to VillaItalianKitchen.com/PiDay to download a coupon, good for one Neapolitan cheese pizza at the special price of $3.14 on March 14.
Enjoy a slice of any of Sweet Provisions pie for just $3.14 all day long.
Celebrate National Pi Day with $5 classic pies, all day long at My Pie.
Wednesday, March 13, to Thursday, March 14, all eight of the locally owned Babbo Italian Eatery locations will offer their 8-inc. cheese pizzas for just $5. Limit is four per person and this is for dine in or take out.
Giordano's restaurants in Paradise Valley and Peoria are offering $3.14 off every large pizza order on Pi Day.