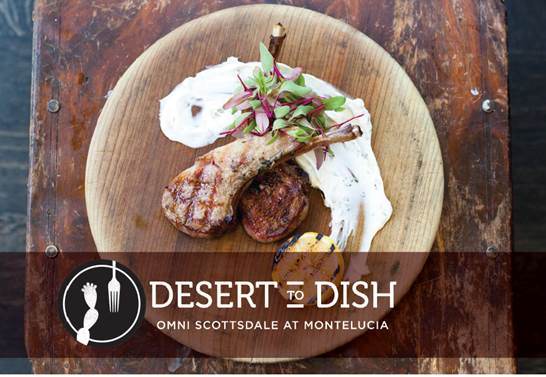 Next week marks the inaugural "Desert to Dish" Culinary Weekend at Omni Scottsdale Resort & Spa at Montelucia taking place Oct. 22-24. The lineup of dining events includes farm-to-table dining experiences, exclusive tours of Arizona farms, and one-of-a-kind interactive opportunities with six renowned chefs from across the country, including Joey Beato, Dakota Weiss and Brandon Foster.
"As we started planning for 'Desert to Dish,' we knew we wanted the focus to be on Arizona's rich agriculture along with showcasing the dedication and passion our local farmers put into bringing diversity and attention to the Southwest," says Michael Cairns, executive chef from Omni Scottsdale Resort. "We have a talented group of chefs from around the nation joining me in this culinary celebration– many from areas that are known for their abundant agriculture – so I'm thrilled to share with them what we have to offer here in Arizona."
Check out the Desert to Dish lineup. Click here for tickets and pricing info.
Thursday, October 22
Chef's Kitchen Welcome Reception – 6:00 p.m.
Chef Michael Cairns kicks off Desert to Dish with an evening of chef tastings, wine pairings and handcrafted cocktails in the Chef's Kitchen & Herb Garden. In this intimate setting, guests will mingle with the Desert to Dish chefs and local purveyors making the weekend events possible. It's the perfect setting to start a fabulous culinary and agricultural experience supporting the James Beard Foundation.
Tickets: Exclusive to VIP Desert to Dish Package Holders
Friday, October 23
Farm Excursions with Desert to Dish Chefs
Explore Arizona's diverse agriculture landscape alongside one of the visiting Desert to Dish Chefs. Each chef will be paired with a unique selection of the finest farms and local purveyors in the area, for an all-day outing which will include tastings and private tours developed exclusively for this weekend. Guests will have a hands-on experience picking produce and ingredients the region is known for, which will be the centerpiece for the culinary creations to come later in the weekend. Each experience includes a picnic lunch provided by Chef Cairns. Seating is extremely limited.
Explore what Arizona has to offer. Featured farms and purveyors include:
•Queen Creek Olive Mill
•Crows Dairy
•Rousseau Farming Company
•Schnepf Farms
•Hayden Flour Mills
•Blue Sky Organic Farms
•Arizona Cheese
•The Meat Shop
•Arizona Micro Greens
•Hope Springs Organic Farm
•Sphinx Date Company
•Pinnacle Farms
•Abby Lee Farms
•Danzeisen Dairy
Tickets: Exclusive to VIP Desert to Dish Package Holders
Supporting Culinary Dreams Reception – 6:00 p.m.
Chef Michael Cairns assembles his culinary team to provide a taste of Montelucia. Guests will have the opportunity to experience a variety of tasting stations highlighting the delicious local products showcased on the farm excursions. Additionally, guests will also have the opportunity to learn about our local crafted beers, wines and distilled spirits that are being recognized nationally. In attendance, will not only be the winemakers, master brewers and distilled masters but Chef Cairn's colleagues and locally nominated James Beard Chefs. A portion of the proceeds benefit the James Beard Foundation, which celebrates, nurtures and honors America's diverse culinary heritage through programs that educate and inspire.
Tickets: $95 per person or included all Desert to Dish packages
Saturday, October 24
Master Culinary Classes
Engage your senses! Learn from the masters in a variety of culinary demonstrations led by each of the visiting Desert to Dish Chefs. Check back for a schedule of classes.
Tickets: Exclusive to VIP and Desert to Dish package Holders
Sonoran Showdown
6:30 p.m. Cocktails & Hors d'Oeuvres
7:30 p.m. Chef Competition
8:30 p.m. Sip, Sample & Savor
9:30 p.m. Winners Announced
The Desert to Dish finale event brings six renowned chefs from around the nation to showcase their culinary skills in effort to raise proceeds benefitting the James Beard Foundation. Guests feast on chef delicacies hand-crafted using locally sourced ingredients while sipping wine and craft beer from local distributors. The ultimate test comes with a live "iron-chef" style competition featuring an indigenous secret ingredient, with the final vote resting in the hands of the guests. It's an evening that is sure to expand your culinary palate.
Tickets: $125 per person or included in all Desert to Dish packages