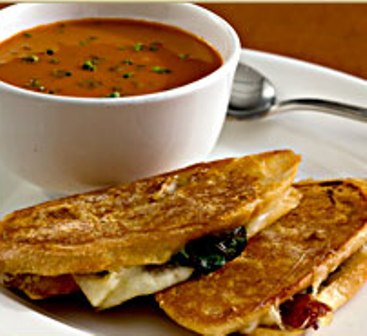 Winter just isn't the same without some warming comfort foods to enjoy it with. As the storms were in high-gear last week, I know I wanted to sit them out with macaroni and cheese, perhaps a helping of mashed potatoes and maybe some cookies and milk for dessert (food is the best part about being stuck indoors, right?). Luckily, The Capital Grille is offering a four-course $49 Comfort Food with a Gourmet Twist prix fixe dinner, now through February 28 to satisfy that craving for comforting fare (which might pop up again next week, as I hear rain might be in the forecast again). "We believe that this special menu further exemplifies our dedication to an exceptional dining experience," said Brian Schwartztrauber, managing partner of The Capital Grille Scottsdale. "So, for this menu, we will be showcasing our artisanal twists on classic favorites."
The seasonal menu reflects The Capital Grille's innovative and luxurious take on classic American cuisine, as exemplified in its rendition of traditional homemade tomato soup and grilled cheese(pictured above, looks amazing doesn't it?). The Capital Grille makes over the classic dish with a personal twist: enjoy a hot, homemade cup of tomato and fennel soup with miniature grilled mozzarella, prosciutto and basil sandwiches. Next, replenish your fresh greens with our Boston bibb salad with Russian dressing, served with cherry tomatoes, radish slices, carrot shavings and hard-boiled egg yolks.
Choose from one of three reinvented entrees, accompanied by creamy gratin of horseradish potatoes: Braised Wagyu Short Rib with Gruyere Crust, Lobster and Shrimp Pot Pie or Tournedos of Beef "Wellington."
Be sure to save room for The Capital Grille's house-made desserts. The moist carrot cake with ice cream and evergreen cinnamon honey or delicious hand-crafted ice cream and cookies provide a sweet end to your satisfying comfort food experience. If your palate is seeking a pick-me-up to complement your dinner, The Capital Grille suggests experiencing the "comfort" of its well-stocked bar. Add extra flair to the evening with one of the restaurant's classic cocktails, with a twist of their own, like a Gin Rickey with a dash of sweet basil or our signature pineapple-infused Stoli Doli martini. There are two Capital Grille locations in the Valley: The Capital Grille Phoenix at Biltmore Fashion Park, 2502 East Camelback Rd., Suite 199, Phoenix, 602.952.8900. The Capital Grille Scottsdale at The Promenade, 16489 N. Scottsdale Rd., Scottsdale, 480.348.1700. The new Comfort Food with a Gourmet Twist prix fixe dinner is available at both locations. www.thecapitalgrille.com.