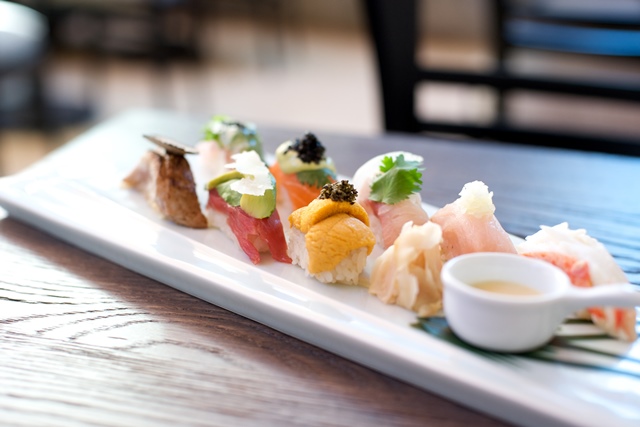 Monday, June 18 marks International Sushi Day, and one of our favorite spots for out-of-this-world sushi, Sushi Roku at W Scottsdale, is celebrating with deals you better not miss.
With this one-night-only dining deal, Suski Roku diners can enjoy 50 percent off all food items (pick your jaws up off the floor). You can even order your choice of Sushi Roku's hand-rolled signature-style sushi, like the premium eight-piece Matsu omakase (pictured), for only $21.50 (normally $43). (The crab piece paired with Champagne butter is amazing!)
During a recent visit, we sampled a few of the incredible eats that diners can dig into at Sushi Roku–all included in the International Sushi Day special. The kimchee cucumber Sunomono is the perfect starter to wake up those taste buds, thanks to a healthy dose of tangy rice vinegar. It is hard not to eat every last piece of tongue-tingling cucumber (though traditionally sliced thin, Sushi Roku's version features larger, hearty chunks of cucumber).
For another light start to the meal, the fluke kumquat was a table favorite, served with a tangy yuzu vinaigrette. Each mild, creamy piece of fluke is topped with candy-like kumquat shavings, giving a sweet finish to each bite. A tad heartier is the seared salmon with a togarashi crust and slices of avocado, paired with a spicy cilantro-jalapeno salad. This pretty dish is pure summer on a plate.
Craving a dose of decadence? The blue crab cocktail will do the trick. A heap of blue crab is paired with a garlic aioli and a dollop of oscietra caviar. Each bite comes together so beautifully–the sweet crab is the perfect palette for the spicy aioli and the caviar gives a buttery finish.
Craving a dose of decadence? The blue crab cocktail will do the trick.
The A-5 Japanese Wagyu beef gets an A-plus for presentation and taste. The beef is grilled over bincho charcoal right at the table and served with a selection of sauces, though it is mighty delicious sans sauce, too. Each piece melts in your mouth, and don't be surprised if your tablemates enjoy this course in complete silence to savor each buttery bite.
And don't fill up so much that you can't enjoy Sushi Roku's innovative and totally Instagrammable Zen garden s'mores dessert. A bed of graham cracker dust is topped with skewered marshmallows (that you toast via a small flame at the table), vanilla cream and truffles of green tea-dusted white chocolate and traditional chocolate. Not only is it delicious, but the whole set-up is great fun, too.
Keep the sushi party going all summer long with the return of Sushi Roku's local love program, which kicks off the day after its International Sushi Day celebration. Arizona residents receive 20 percent off their bill, through Labor Day on Monday, Sept. 3. This deal is offered Sunday through Thursday for dinner only, proof of residency is required and the offer does not apply to happy hour.