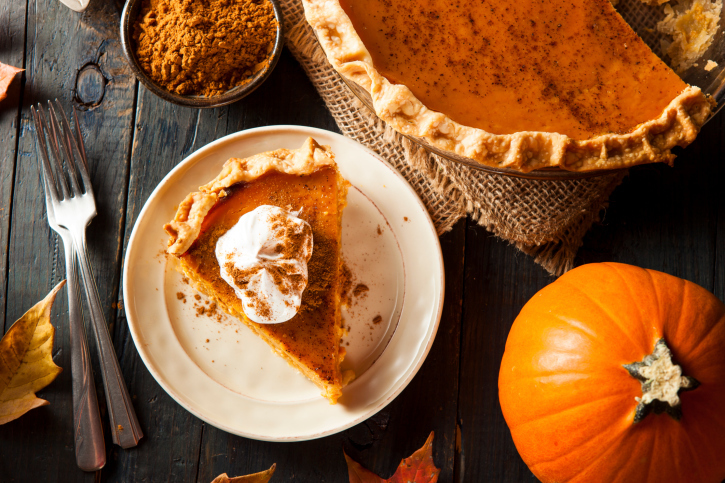 Whether you'd like a little help with the pie or side dishes or you want to order the whole shebang to go, these Valley restaurants are making Thanksgiving a snap with delicious pickup feasts.
Liberty Station and Market Street Kitchen offer to-go packages for the holiday. For $25 per person (not including tax), guests can purchase a to-go feast including sliced rotisserie turkey, mac n cheese, garlic mashed potatoes, stuffing green beans, cranberry sauce, gravy, house bread and pumpkin cheesecake. To place an order, call 480.595.9930 (Liberty Station) or 480.278.7044 (Market Street Kitchen) by 9 p.m. on Sunday, Nov. 19. Thanksgiving packages will be available for pick up at a scheduled time between 11 a.m. and 3 p.m. on Thursday, Nov. 23.
Bobby-Q Great Steaks & Real BBQ offers a festive dinner available to order for you and your family for a hassle-free Thanksgiving (Bobby-Q's will be closed on Thanksgiving Day, Nov. 23). Bobby Q's turkeys are hand-rubbed with a custom blend of spices and then roasted, slow and low over almond and mesquite wood. Each 12- to 14-pound turkey (pre-cooked weight), serves two to four people. It can be purchased a la carte for $55 or packed with a quart of mashed potatoes, a quart of fire-roasted corn, a pint of gravy and eight cornbread for $75. Also available by special order only will be smoked turkey gravy (only available on Wednesday, November 22). Turkey orders need to be placed a minimum of 72 hours in advance of the pick up date and re-heating instructions are provided. (Keep in mind that the turkey is completely cooked, and only needs to be warmed.) Pick-up will be available from 11 a.m. to 7 p.m. on Wednesday, Nov. 22 at both the Phoenix (I-17 and Northern) and Mesa locations (Stapley Dr. and US 60).
Call in your order at Luci's Healthy Marketplace or Luci's at the Orchard for a fuss-free home-cooked meal. A complete meal is $159.99, feeds six to eight people and includes a pre-cooked all-natural turkey (12 to 14 pounds), dinner rolls, gravy, pumpkin pie and much more. Pickups at Luci's Healthy Marketplace only the day before Thanksgiving. Cancellations and final orders must be made by Nov. 20. There will be no refunds after this date.
Miracle Mile Deli offers traditional side orders to share with loved ones, including mashed potatoes, gravy, homemade stuffing, cranberry sauce, rolls and much more. Order by Tuesday, Nov. 21 at 2 p.m. to ensure an on time pick up the day before Thanksgiving. (Miracle Mile Deli will be closed on Thanksgiving day.)
Chompie's is now taking pre-orders for whole oven-roasted turkeys, pies or full-course meal packages. The full dinner and a la carte selections are designed to make giving thanks a little easier this holiday season. The Traditional Full Meal Package (serves 12-15 generously) is $219.99 and a la carte dishes include fresh pies, stuffing, green beans and more. Whole turkey and large dinner packages must be ordered at least 72 hours in advance for pick up on Nov. 22 or Nov. 23. Chompie's five Valley locations will be open until 3 p.m. on Thanksgiving Day.
Perk Eatery will offer a unique take-out items to add to the Thanksgiving feast. The Sausage and Sage Stuffing is $32 and serves eight to 10 people. The delicious Blackberry Apple Crostata ($24), Pumpkin Pecan Ganache Pie ($34) and Chocolate Lines Banana Cream Coconut Pie ($34) are are sold in disposable pie plates. All items are baked fresh for pick up on Wednesday, Nov. 22. Final orders must be in by Monday, Nov. 20, at 5 p.m.
The Market by Jennifer's will offer Thanksgiving curbside catering on Nov. 23. The meal serves a party of six for $219.99 ($36 per additional person) and includes whole roasted turkey, artisan bread stuffing, roasted baby sweet potatoes, fresh-baked bread board and more. Extra pies are $24 each.
Proof at Four Seasons Resort Scottsdale at Troon North will serve up its popular holiday Pies 'n' Sides. Guests can order all the side dishes and pies prepared "to-go" for delicious dining at home. Each order must be placed at least 48 hours in advance and will be available for pickup on Nov. 22 or Nov. 23. E-mail orders can be placed at proofcanteen.sco@fourseasons.com.
The sweet stuff:
Save some space on the Thanksgiving dessert table for Chef Justin Beckett's Fig & Pecan pie, available for pre-order now until Sunday, Nov. 19 at Beckett's Table and Southern Rail for $28. For an added flavor bonus, the Fig & Pecan Pie can be served alongside a pint of Chef Beckett's house-made citrus zest cream cheese ice cream, available for $8. Orders may be placed by calling or stopping by either restaurant. Pie orders placed at Beckett's Table must be picked up at Beckett's Table and pie orders placed at Southern Rail must be picked up at Southern Rail. Pies will be available for pick up on Wednesday, Nov. 22 between 11 a.m. and 6 p.m.
Super Chunk Sweets & Treats in Scottsdale is now taking pre-orders on its baked-from-scratch pies and other favorites sized for sharing after the holiday meal through end of day Monday, Nov. 20. Pies available this year include the seasonal Fresh Roasted Pumpkin Pie (available only for Thanksgiving), Dutch Apple, Pecan and Nanaimo Peanut Butter Pie. The nine-in. pies are $24. Also available for the holidays are the six-inc. John & Yoko Cake ($33.99) and a Box of Mini Cookies ($24) that include a dozen bite-size versions of five of Super Chunk's favorite treats. Pick-up takes place Nov. 21 and 22 (closed on Thanksgiving).
True Food Kitchen is making whole squash pies available for pick-up. Bonus: it accommodates those with vegan and gluten-free diets. Pre-orders are being taken now through Sunday, Nov. 19; pies will be available for pick-up on Tuesday, Nov. 21, and Wednesday, Nov. 22, for $22.
Grassroots Kitchen & Tap, Twisted Grove Parlor & Bar, Wally's American Gastropub and Sweet Provisions will all be featuring to-go pies with house-made flavors including Pumpkin, Apple, Butterscotch Pecan, and Coconut Cream. At the Phoenix location, Grassroots Kitchen & Tap will offer Pumpkin, Key Lime and Coconut Cream varieties, and the new Twisted Grove Parlor & Bar (32nd St. and Camelback) will offer Apple and Butterscotch Pecan varieties to go. In Scottsdale, all pies from Twisted Grove, Wally's, Grassroots, and Sweet Provisions can be ordered and then picked up from Sweet Provisions (Hayden Rd. and Via de Ventura). 72-hour advanced ordering is required. All pies cost $24.
The legendary Tammie Coe hosts a pop-up shop of baked goodies at The Henry on Nov. 22 from 9 a.m. to 2 p.m., in addition to her Phoenix bakery. Locals can grab the likes of pumpkin and toffee pecan pies, fall leaf cookies and much more for their own Thanksgiving table. Items are first come, first served; to reserve a dessert, orders must be placed by Nob. 18 for Nov. 22 pickup at either The Henry or Coe's bakery.