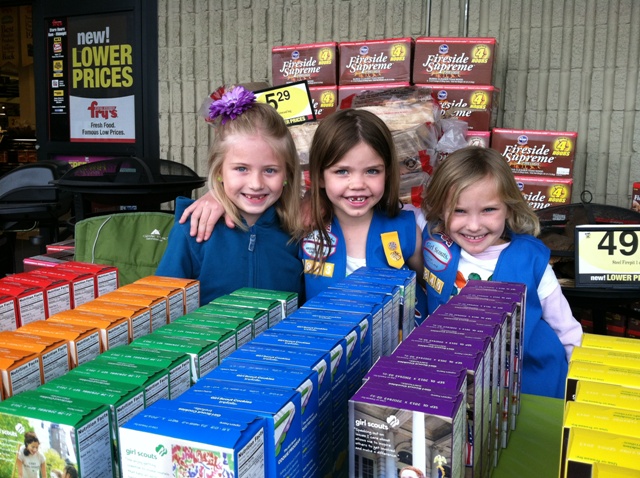 Have you been having Thin Mint withdraws? You're in luck. The Girl Scout Cookie Program kicks off its six-week run today.
Each year, Girl Scouts in Arizona participate in the largest girl-led entrepreneurial program in the world. From Jan. 21 to March 3, more than 11,000 girls in central and northern Arizona will be learning entrepreneurial skills while selling those delicious cookies. Girl Scouts–Arizona Cactus-Pine Council (GSACPC) sold 2.9 million packages of cookies last year;  this year's goal is 3 million packages. 
One-hundred percent of GSACPC Cookie proceeds stay local to benefit Girl Scouting in Arizona.
Check out this year's cookie lineup:
Thin Mints: Mint flavored (and vegan) cookies with a delicious chocolaty coating. $5
Tagalongs: Layers of peanut butter with a rich, chocolaty coating. $5
Samoas: Caramel and toasted coconut-covered cookies. $5
Trefoils: Iconic and delicious shortbread cookies. $5
Do-si-dos: Crisp and crunchy oatmeal outside and creamy peanut butter inside. $5
Savannah Smiles: Zesty, lemon-flavored cookies dusted with powdered sugar. $5
Girl Scout S'mores: Crunchy graham sandwich cookies with creamy chocolate and marshmallowy filling. $6
Toffee-tastics: Buttery (and gluten-free) cookies with sweet, crunchy golden toffee bits. Only troops that have opted into selling this cookie will have them, so it will be available in limited quantities. $6
So how can you place your cookie order, pronto? The Cookie Finder app can find a cookie booth near you. Just enter your zip code and choose from a list of locations nearby.