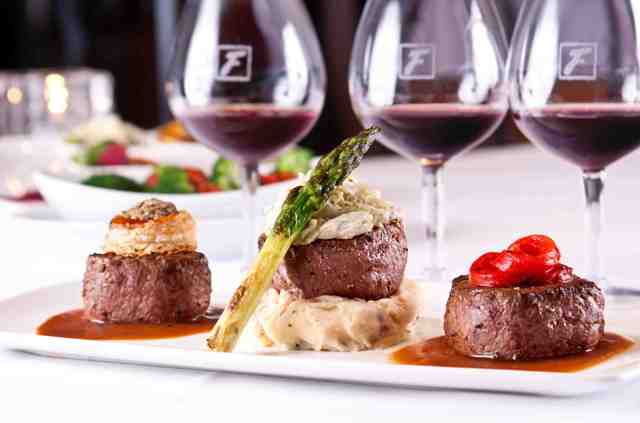 Now that summer is nearing its end (thank goodness!) on September 22, it's time to put away those light summer salads and start thinking about meat. A great place to start your beefy adventures is Fleming's Prime Steakhouse and Wine Bar, as September is a eventful time to visit one Fleming's Valley locations. First of all, the grilling seminars are back (you might remember when they debuted around Father's Day). Fleming's Grill Seminar: Seafood & Vegetables will take place  on Saturdays, Sept. 12 and Sept. 19, from noon to 1:30 p.m., and the sessions cost $10 to participate. Fleming's chefs will offer their expertise with tips and recipes, then head to grills provided by Barbeques Galore for a hands-on demonstration. The best part of all is that after the sessions, guests will get a tasting plate with samples of the finished dishes while Fleming's wine managers offer suggestions on wine pairings.  Both Saturday sessions will cover the same material. Also, Fleming's DC Ranch will offer the sessions in addition to the other three Phoenix restaurants in Scottsdale, Peoria and Chandler. Seating is limited at the sessions, so reservations are required.
Plus, the Memorable Meal at Fleming's this month is a Trio of Filet Mignon. The dish is a contemporary twist on three classic filet preparations–Wellington, Oscar and Au Poivre–for $45 per person. Also included with the filet trio is a Roma Tomato Trio & Fresh Mozzarella Salad, choice of sautéed broccoli or mashed potatoes, and a trio of crème brulée for dessert. A wine flight of perfectly paired wines is also available for just $10 more. The Trio of Filet Mignon is available nightly at Fleming's through September 31. It is also available as a Memorable Meal for two for $89.
"If I had three wishes, I'd probably wish for steak, steak and steak. I love preparing it all different ways, and tasting it from different culinary perspectives. So I'm taking three of my favorite classic preparations — Wellington, Oscar, and Au Poivre — and updating them for this Trio of Filets," says Executive Chef Russell Skall. "For me, each really brings out the characteristics of the steak in its own unique way, so I created this opportunity for you to taste them side by side and discover for yourself why these dishes have been popular for generations."
There are four Valley Fleming's locations: Scottsdale (6333 N. Scottsdale Rd. / 480-596-8265); Peoria (9712 W. Northern Ave. / 623-772-9463); Chandler (905 N. 54th St. / 480-940-1900); and DC Ranch (12753 N. Pima Rd. / 480-538-8000). http://www.flemingssteakhouse.com/.